Our Remote Learning Offer
Our Remote Learning Offer at Warmsworth Primary School
If our children need to access remote learning, we use Google Classroom as our online learning platform.
To log into Google Classroom, please use the school email address and password which has been allocated to your child, this should allow access without a code. For children in F2 and Years 1 - 6 this information can be found on the inside cover of your child's reading record.
If you used Google Classroom for your child during the last academic year, you will need to add a new account using the details in your child's reading record.
If you require your child's username or password, please contact the school office on 01302 852200.
If a whole class is required to learn remotely, you will be invited to live Google Meets with the class teacher.
To ensure the safety of everyone, please follow these simple Google Meet Rules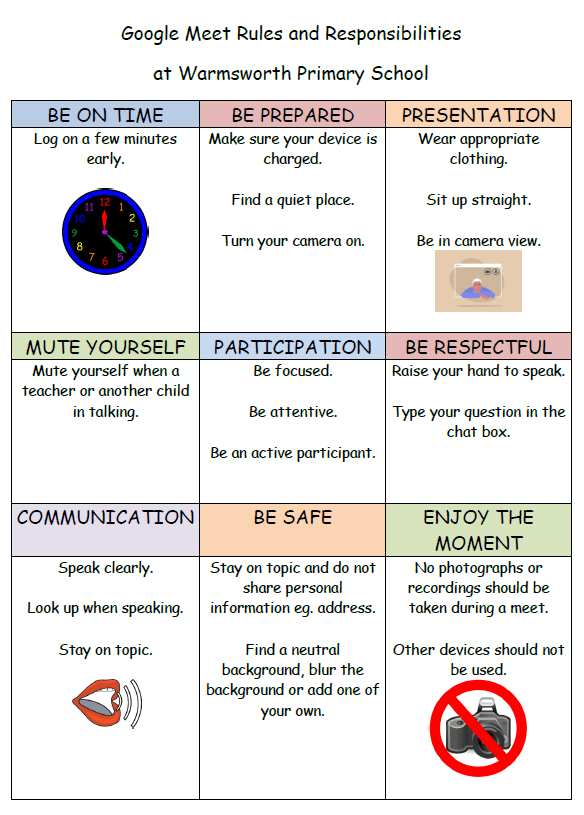 For information about our home learning and in-school critical worker and vulnerable children provisions please see the following documents;
Letter to all parents 11.01.21
Information for Parents - Remote Learning
This information is intended to provide clarity and transparency to pupils and parents or carers about what to expect from remote education if local restrictions require entire cohorts (or bubbles) to remain at home.
For details of what to expect where individual pupils are self-isolating, please see the final section of this page.

The remote curriculum: what is taught to pupils at home?
A pupil's first day or two of being educated remotely might look different from our standard approach, while we take all necessary actions to prepare for a longer period of remote teaching.

What should my child expect from immediate remote education in the first day or two of pupils being sent home?
Wherever possible, we will send children home with paper resources with children to complete independently in the first instance. Where this is not possible, materials will be available to be collected from a table at the school office the following morning.
Following the first few days of remote education, will my child be taught broadly the same curriculum as they would if they were in school?
We teach the same curriculum remotely as we do in school, wherever possible and appropriate. However, we have needed to make some adaptations in some subjects. For example, our curriculum is usually very hands-on and interactive, with a strong focus on collaborative learning.
We are aware that physical resources we use in school are not available in all homes, and we will only ask for resources to be used that are commonly found in a household setting.
We are also aware that your child may be working independently to complete their remote learning and may not have other siblings to collaborate with, so the teachers have amended ad adjusted their planning accordingly to provide other options to our planned curriculum.

Remote teaching and study time each day

How long can I expect work set by the school to take my child each day?
We expect that remote education will take pupils broadly the following number of hours
each day:
Pupils in our Foundation Stage provision Approx. 3 hours a day
Pupils in KS1 (from 11th January 2021) 3 hours+ a day
Pupils in KS2 (from 11th January 2021) 4 hours+ a day

Accessing remote education
How will my child access any online remote education you are providing?
We are currently using Google Classroom as our online remote learning platform. Your child's email and password should have already been shared with you at the start of this academic year (this will be different to the one you were issued with last year) – often it is attached in the front of your child's reading record book or sent with your child's phonic keyring etc. If you need a reminder regarding your child's Google Classroom access, please contact the school office who will assist you.
If my child does not have digital or online access at home, how will you support them to access remote education?
We recognise that some pupils may not have suitable online access at home. We take thefollowing approaches to support those pupils to access remote education:
Through our remote learning device questionnaire (November 2020) we have been informed that most households do have access to the internet through a device, whether that be a mobile phone, iPad, laptop, computer, Play Station 4 or 5 and Xbox; Google Classroom is able to be accessed on all of these devices.
If your child is unable to access online learning, please contact school to discuss. In this first instance we are able to provide printed materials if your child(ren) do not have online access. These printed materials can then be returned to school via the school office who will then pass them onto teachers for feedback. The teachers will then contact your child to discuss their learning, as required.

We do have a very small number of laptops that we are able to loan out to parents in emergency cases. However, these are very limited and we are in the process of trying to procure more devices under the new promise from the government. Please contact us to discuss individual circumstances if you wish to discuss this with us. At this moment in time, these devices are not enabled with an internet connection, but
we have been advised that current mobile phone providers are providing additional data during this period of partial school closure if a child satisfies the 3 criteria identified below:
? do not have fixed broadband at home
? cannot afford additional data for their devices
? are experiencing disruption to their face-to-face education

Children with access to a mobile phone on one of the following networks might be able to benefit:
? Three
? SMARTY
? Virgin Mobile
? EE
? Tesco Mobile
? Sky Mobile
? O2
Other providers may join the scheme at a later stage.
If your child is eligible and fulfils the above criteria, please contact the school and provide:
? the name of the account holder
? the number of the mobile device
? the mobile network of that device (for example Three)
Once a network provider has processed a data increase, they'll send a text message to the account holder. It's also possible to check the status of requests through the online service.

How will my child be taught remotely?
We use a combination of the following approaches to teach pupils remotely:
In line with the latest guidance (7th January 2021) we are providing:
? recorded teaching – including video/audio recordings made by teachers, Oak National Academy lessons, BBC Bitesize lessons, White Rose Maths videos etc.)
? commercially available websites supporting the teaching of specific subjects or areas, including video clips or sequences
? independent learning activities
? live lessons.Although we are aware that some parents welcome these for their child, we are also aware of the pressures this puts on device sharing within the family and home, and the tech issues this can arise due to broadband speeds etc. As a result, teachers will be providing record teaching and learning as detailed above to supplement these live lessons.
Engagement and feedback
What are your expectations for my child's engagement and the support that we as parents and carers should provide at home?

We are aware that this is a difficult time for everyone and pupil's engagement with remote learning will vary, due to individual circumstances.
We would like all children to access and complete the learning set, in the order it is set, as this learning is carefully planned and sequenced so that learning is linked, revisited and builds over time.
We are providing learning for English, Maths and one or two foundation subjects each day, depending on the age and stage of your child. We feel that it is beneficial to devise a routine at home, as they would in school, having breaks between each subject, although we are aware that parents will need to adjust the timings of their days around work commitments etc.

How will you check whether my child is engaging with their work and how will I be informed if there are concerns?
Teachers will be monitoring each child's access and engagement in Google Classroom daily and they will contact parents by telephone, or email, if they have concerns regarding pupil engagement.

How will you assess my child's work and progress?
Feedback can take many forms and may not always mean extensive written comments for individual children. For example, whole-class feedback or quizzes marked automatically via digital platforms are also valid and effective methods, amongst many others. Our approach to feeding back on pupil work is as follows:
When learning is submitted to teachers they will read and provide feedback, as required.
Wherever possible, this will be responded to within that school working day, but please be aware that this may not be possible if the learning is submitted after 2pm and a large amount is submitted to the teacher at once. Where it isn't possible to respond to learning on the day it is set, it will be responded to on the following school working day.
Please remember that teachers may be receiving between 100 and 200 submissions each day as teachers do not currently receive notifications on Google Classroom that work has been uploaded. If you have any concerns, please contact the teacher by the class email system.

Additional support for pupils with particular needs

How will you work with me to help my child who needs additional support from adults at home to access remote education?
We recognise that some pupils, for example some pupils with special educational needs and disabilities (SEND), may not be able to access remote education without support from adults at home. We acknowledge the difficulties this may place on families, and we will
work with parents and carers to support those pupils in the following ways:
We are offering remote learning to all our pupils, from Foundation Stage One to Year 6. If your child requires additional support due to their special educational needs or disabilities, please contact your child's class teacher so that they are able to support you and your child in the best way possible.

Remote education for self-isolating pupils
Where individual pupils need to self-isolate but the majority of their peer group remains in school, how remote education is provided will likely differ from the approach for whole groups. This is due to the challenges of teaching pupils both at home and in school.

If my child is not in school because they are self-isolating, how will their remote education differ from the approaches described above?
If your child is self-isolating, your child will be provided with planned, well-sequenced learning each day. For the first two days, this may take the form of paper resources, as set out previously, and then will be provided with learning on Google Classroom. This learning will cover English, Maths and at least one foundation subject. Teachers will make every endeavour to provide feedback to your child's learning at the end of
the school day, or the subsequent day, as they will be still teaching face to face during the school day and immediate feedback will not be possible.
Click here for a video to help you log in to Google Classroom