Health Matters
Coronavirus:
There is a lot of information in the media at the moment about the Coronavirus, and I thought it would be helpful to share the most recent Public Health advice for schools.
Our school is a very busy public space, and we are advising everyone to use tissues when they cough or sneeze and regularly wash their hands with soap and water in school.
Following the publishing of recent advice from Public Health regarding stopping the Coronavirus spreading, we will be stepping up our handwashing procedures across school.
We have been encouraging children to wash their hands regularly, but will now have a more structured approach, and we would appreciate your help in supporting us in this.
The most recent advice is to wash hands:
At home before coming to school

On arriving in school

After using the toilet

Before eating at lunchtime

Before leaving for home time
We hope this will improve our hygiene across school and play our part in limiting the spread of Coronavirus across the country.
The Department for Education have now set up a Coronavirus Helpline to answer questions about COVID-19 related to education.
Staff, parents and young people can contact the helpline, as detailed below: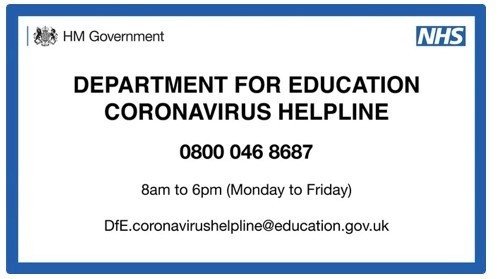 Please be assured that at this time, there is not an issue in school around the Coronavirus, and we are just taking this action as a precaution.
Please see poster in this link on advice on Coronavirus in places of education.
If you have any questions or concerns about Coronavuirus, please contact our school nursing team Single Point of Contact on 01302 566776.
https://assets.publishing.service.gov.uk/government/uploads/system/uploads/attachment_data/file/875550/COVID19_Guidance_Education-1__1_.pdf
Medicine in school:
Legally, schools are not compelled to administer medication to children or to supervise a child taking it because of the risks involved and possible legal consequences.
This is purely a voluntary role. Medicines should only be brought into school where it would be detrimental to a child's health if the medicine were not administered during the school day.
If possible all medicine should be taken at home, with the exception of doses prescribed four times a day by a doctor. The administration staff at this school have volunteered to administer medicines that meet the requirements and have been trained to do so.
To aid this process the following documents must be completed by parents/carers. These can either be completed at home by downloading the forms listed below or by requesting copies from our school office.
Form 3A - Parental agreement for school to administer prescribed medicine short term
Form 3B - Parental agreement for school to administer prescribed medicine long term
Form 5 - Records of medicine administered in school
For further details regarding the administration of medicine please read our Medicine in School Policy by clicking the link below:
Medical Conditions:
It is important that school is made aware of any medical conditions your child may have. Please record this on the pupil information sheet at the beginning of each school year and advise the school office of any in year changes.
The School Nurse:
The school has access to a school nurse who visits the school on a regular basis. They are readily available to check on health issues, as requested.
Specific routine health screening for height and weight is carried out in: Foundation Stage 2 and again in Year 6. Vision is also checked in Foundation Stage 2. Flue vaccinations are available for children in Year 1 and Year 2.