Year 5 news:
Dear Parent/ Carer
In our Year 6 learning pack, we have included the following:
Y5 and 6 spelling list. These spellings will be tested throughout the school year and there will be an expectation that the children spell these correctly, not only when tested, but also in their independent writing in order to gain the expected standard for writing at the end of Y6.
Subordinating conjunctions list. These words will be used regularly in their speaking and listening lessons and in their writing (across the curriculum), and again, there will be an expectation to spell these correctly when used.
Arithmetic tests. Children will have weekly arithmetic sessions both in school and as part for their homework. The arithmetic skills the children need to learn in Y6 to achieve the expected standard in maths are:
Addition and subtraction up to 6 digits

Multiplying and dividing by 10,100 and 100

Multiplication up to a 4 digit number multiplied by a single digit or a 3 digit number multiplied by a 2 digit number.

Division up to a 4 digit number divided by a 2 digit number

Addition, subtraction, multiplication and division of fractions

Finding fractions of amounts

Finding percentages of quantities

BODMAS
Reading challenges. Children will be expected to read at home daily and record this in their reading records which are monitored weekly. They will also have daily reading sessions in school. These cards provide some of the types of questions the children will be expected to answer in Y6 to attain the expected standard in reading.
Subordinating Conjunctions Words
Year 6 Autumn Test 1 Arithmetic
Year 6 Autumn Test 2 Arithmetic
Year 6 Autumn Test 3 Arithmetic
Year 6 Autumn Test 4 Arithmetic
_________________________________________________________________________________________________
Please see above video for your child's transition into Year 6.
__________________________________________________________________________________________________
Kingswood
In light of current circumstances, we have taken the decision to postpone the Kingswood residential visit planned for our year 6 pupils in October 2020. We have managed to rearrange the dates for this residential and we are now planning on taking the children on this visit from 24th-26th March 2021. We appreciate that some parents had concerns about the timing of this visit and we hope this will allay some of your fears. Please be aware that if you have not already paid your second deposit of £55.00, please can this be paid by Monday 6th July 2020.
__________________________________________________________________________________________________
Addition to Home Learning Week Commencing 20th April 2020
As part of home learning for you to access during the school closures, we would like to recommend a Primary Engineers project that is open for all children to participate in. Before schools closed, children in Key Stage 2 were involved in a Primary Engineer competition. It could also now be accessed by younger children with a little support perhaps from an older sibling. The project is called, 'If you were an engineer, what would you do?'
You will need to register, and once registered, you will be given access to online resources, guides and information on the upcoming engineer interviews via a resources area. There is no expectation that children must participate, but it would complement the efforts the children put into their initial designs completed in school (not all classes finished it before closure). You could even use your design again as part of this project.
Please see below to register:
IF YOU WERE AN ENGINEER WHAT WOULD YOU DO?
Calling all home educators,
There is nothing like a little boredom to fuel creative invention!
With that in mind, we would like to present our 'If you were an engineer, what would you do' Home Learning Project. Completely free for all children and young people aged 3-19.
We are providing more online interviews with engineers, who will share their work experiences and answer your questions; along with some activities to help get you 'thinking like an engineer'.
So, how do you get involved?
Firstly, you will need to register, this can be done by clicking the link below.
Once registered, you will be given access to our online resources, guides and information on the upcoming engineer interviews via our resources area.
Please feel free to share this email with other families! We want everyone to have the opportunity to delve into the fun world of engineering and put their creativity to the test.
This project has been created both for parents/carers/guardians to deliver at home to children and young people in their household; and also, for teachers to deliver to key worker pupils in class or pupils at home. Teachers who are already registered for the Leaders Award competition, please share this with parents/carers/guardians to aid them with home learning.
The deadline for this project is 10th September 2020.
If you do have any queries at all or require more information, please visit our website, sign up to our newsletter, or contact us directly at info@leadersaward.com.
You can follow us here:
Twitter: @leadersaward
Facebook: @leadersaward
Instagram: @primaryengineer
YouTube: PrimaryEngineer
_______________________________________________________________________________________
Year 5 Home Learning Week Commencing 20th April 2020
Dear pupils,
Please find attached a list of home learning for the time of the school closure. We would like you to complete a timetable for each day, which shows that you have spent some time on reading, writing, maths and cross-curricular.
Thanks
Mrs Nile, Miss Nithsdale and Mr Thomson
Reading:
Complete all of the following:
Read for at least 30 minutes a day from a book of your choice. Make sure that this book is age-appropriate and will both challenge and engage you. Choose an activity each day from the following to complete to demonstrate your understanding and depth of reading learning:

Identify pieces of vocabulary and give their definitions and an alternative sentence they could be used in.

Summarise the meaning of the part you have read. · Predict what may happen next referring to your reading.

Set and answer your own questions.

When the book is finished, produce a book review explaining the plot, your opinions of the text and whether you would recommend it.
Writing:
Complete all the following:
Write a recipe for some baking you have done, or a set of instructions for how to play your favourite game. Use your fronted adverbials, subordination and parenthesis to add detail to your writing.

Create a newspaper report about Captain Tom Moore, who has raised over £12million for the NHS. Remember to explain when, why, where and how he has accomplished this. Interview your family members for quotes to add to the report. Use the Newsround website to find examples of reports.

Create a poster about all the different types of punctuation you know. Make sure to include examples of where it can be used. How many different punctuation marks can you think of?
Maths:
Complete all the of following:
Mathletics completed daily.

Practise all times tables using maths frame.

Calculate the area and perimeter of each room in your house.

Challenge yourself to tell the time as often as possible in the day. Work out how long it has been since you ate breakfast, how long it is until tea time or bed time. Can you do this in hours and minutes, and then just in minutes?

Practise arithmetic questions similar to those from the papers sent home.
Cross Curricular:
Choose these in an order to suit yourselves. You can spend as much or as little time on these activities depending on your likes and dislikes. However, you must indicate on the timetable how long you have spent on your project each day.
Create a poster about the differences between a mammal, an amphibian, an insect and a bird. Think about what their bodies are like, which habitat they live in, and their life cycle.

Produce a PowerPoint presentation about the work of Jane Goodall or David Attenborough.

Make a table about the positive and negative effect of humans on your local environment – what have they made better, and what have they damaged?

Challenge yourself to jump as far as you can. Record how far you manage each time. Can you change the run-up to include more than one element, e.g. run, skip, hop, sidestep?

Learn how to do something new, e.g. cook, sew, knit etc. Record your successes and produce a report or instructions to help someone else.

Use the internet to find the French words for as many foods in your kitchen as possible. ·

Continue to practise your coding skills on Scratch. Try to create a clicker game.
Drama:
In year 5, we have used drama as a technique to investigate the opinions and feelings behind the main character in our class text, The Executioner's Daughter'. We used our ideas to support our writing about Moss and her life in the Tudor times living in the Tower of London. We really enjoyed learning how to thought track, freeze frame and hot-seat characters.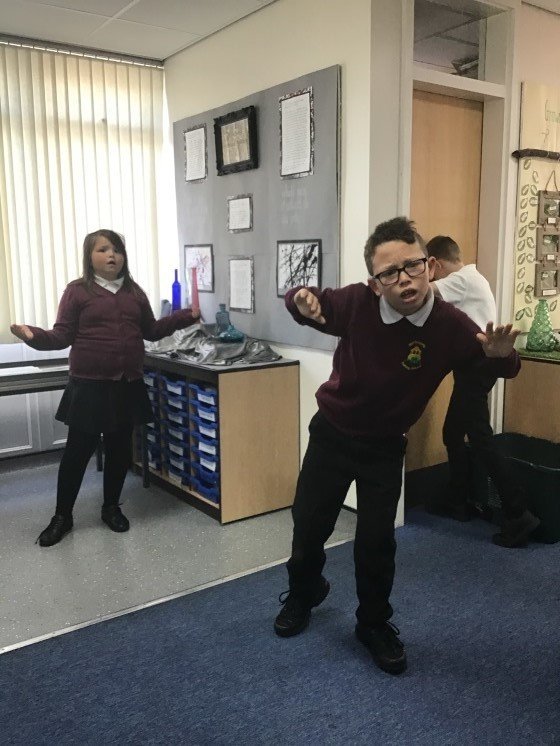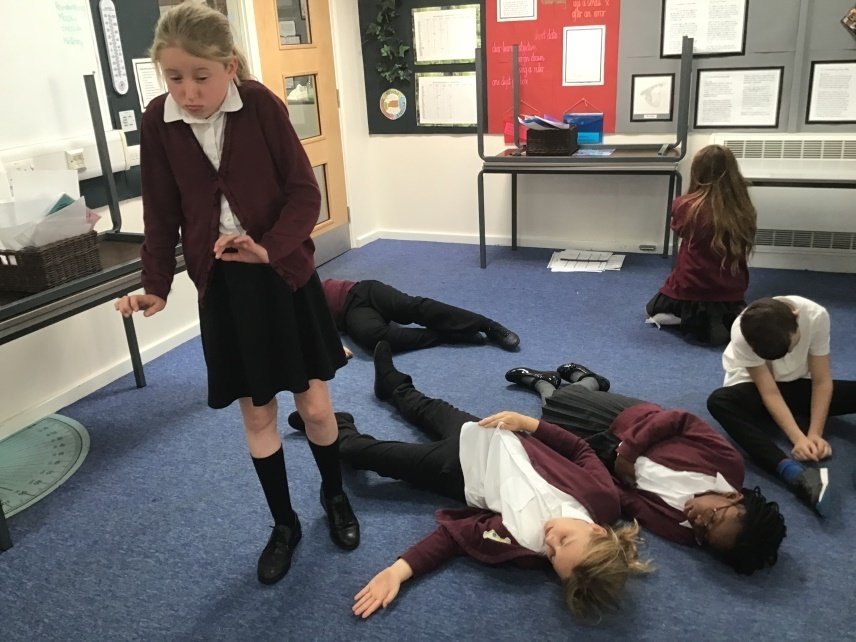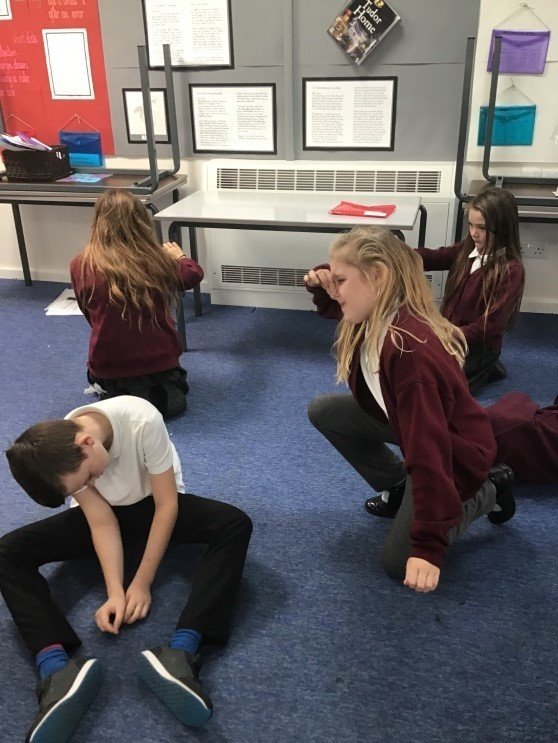 Choosing books:
Year 5 have really impressed Miss Nithsdale and Mrs Nile because they have been choosing books from the library that link with our topics of Space and the Tudors so that they can find out more extra information.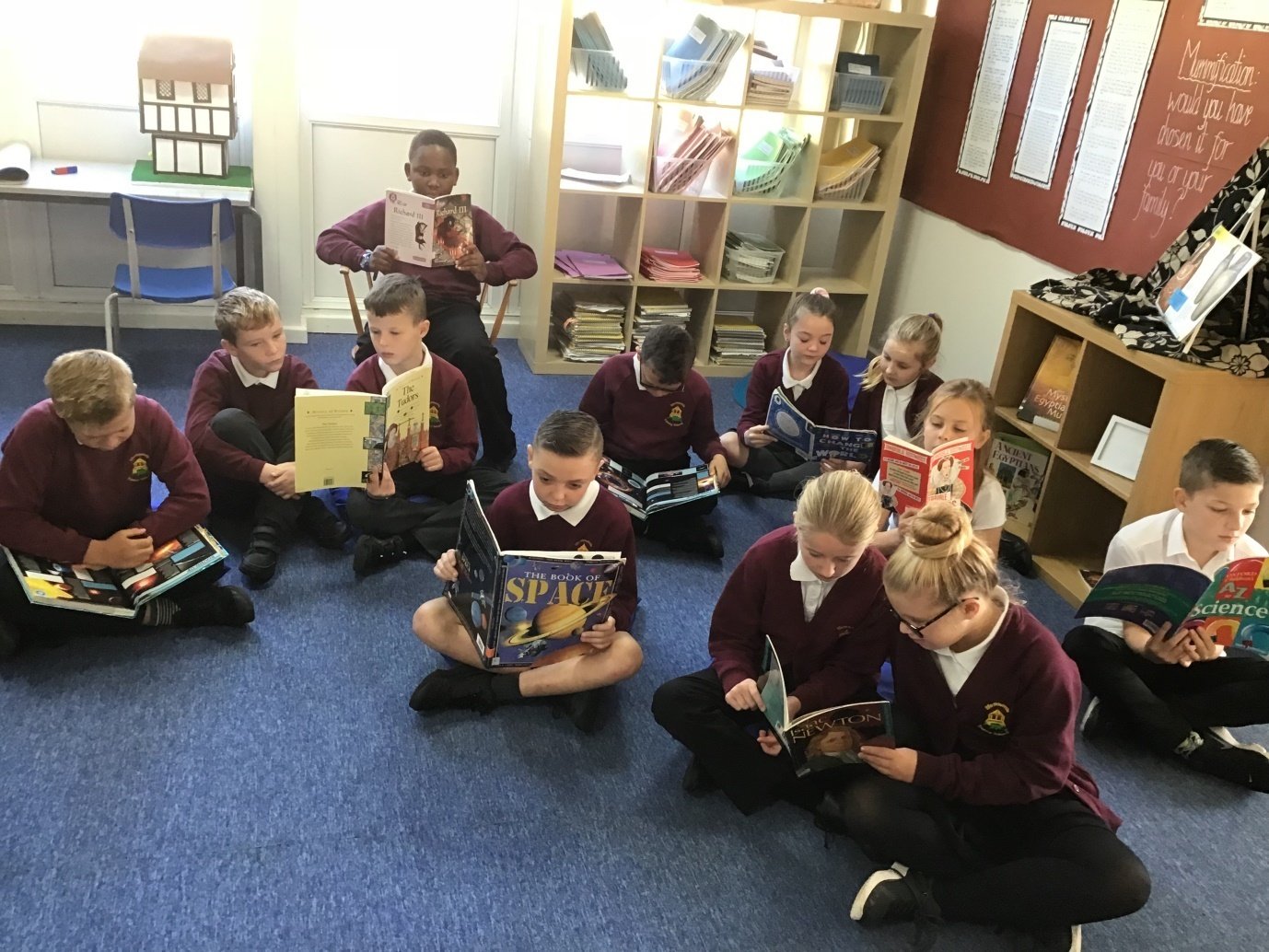 Gainsborough Old Hall:
On Thursday 5th September, Year 5 visited the house of Lord Thomas Burgh, where Henry VIII had stayed on his way to York. Full of fiery excitement, we got dressed up as Tudor people: the king, queen, lord, lady and countless other roles that were needed! Before lunch, we worked in the kitchen to copy the jobs that the Tudor chefs would have had to do, and also visited Catherine Howard's bedroom, where she had her secret boyfriend (and we all know how that ended for them both). Furthermore, we participated in a Tudor banquet, before eating lunch and then having time to explore other areas of the house in small groups. After an exhausting day, we fell into our seats on the coach to return to school.