Foundation 2 news:
Home Learning Week Commencing 20th April 2020
Please find attached a further list of home learning for the time of the school closure. We would like you to support your child to complete some of the learning identified in each of the curriculum areas. Please also look at the Summer 1 curriculum booklet on the website for more information linked to the curriculum.
Take care and stay safe
Mrs Sharp and Miss Edwards
Topic Title 'Jungle Fever'
Outdoor learning opportunities: Looking for signs of new growth in the garden.
Create a bug hotel (rspb.org.uk)
Plant a sunflower and monitor how tall it grows, take some photos at different intervals.
Go on a sensory walk, listen for different sounds, talk about the smells, look for signs of new life: buds, flowers, leaves growing again on the trees.
Communication, language and literacy:
Asking 'how' and 'why' questions about your daily story sessions and personal experiences.

Name and talk about different wild animals. What do they look like? What do they eat? Where do they live? What are their babies called?

Describe features of different environments where animals live e.g. savannah, jungle, desert, forest and garden.
Physical:
Joe Wicks and YouTube: Just Dance for Kids

Listen to your favourite pop song and create a routine to show to your family.

Ride your bike or scooter (don't forget your helmet)

Create an obstacle course in the garden.
Fine motor strength:
Explore play dough and plasticine to create jungle scenes and wild animals.

Play in the bath/water tray with sponges and flannels, squeezing out all the water.

Fixing construction kits together and pulling apart e.g. lego, k'nex

Using different tools to make marks – chalk, paint, felt tips, crayons, markers, highlighters, coloured pencils, pencils, pens.
Phonics/Reading:
Share a range of books including stories and non-fiction books. Talk about the main events, characters and if they have had any similar experiences.

Look for print in other areas such as food packaging, shop and road signs.

Complete their keyring – how many sounds do they know?

Use their keyring to play games: choose a letter say five things that begin with that letter, use a timer to provide challenge.

Practise reading the words on their keyring. Challenge put the word into a sentence.

Fiction books that are online to listen to: Google/YouTube Children's books read aloud. 'Walking through the jungle', 'The tiger who came to tea', 'Rumble in the jungle'.

Talk about the above books. What part did you like best? Who were the characters in the book? What happened at the end?
Writing:
Practise writing their letters / sounds (lower case and upper case) following the correct letter formation and encouraging correct pencil grip. (See support sheet in homework books)

Continue practising writing their full name, focussing on correct letter formation, size
Non-fiction writing about tigers and parrots:
Write sentences about tiger facts/parrot facts sounding words out, using their phonic skills and knowledge of tricky words. e.g. A tiger has orange and black stripes. A parrot has wings to fly.
Maths:
Sing number songs and rhymes with your child daily.

Counting activities: using fingers to count to 10, using hands to count in 5's and 10's.

Counting in 2's: counting pairs of shoes/socks/gloves.

Counting objects 0-20 reliably: touch and move the objects as they count.

Order magnetic numbers/keyring numbers. Order the numbers then take one away without them looking, can they identify the missing number.

Select five random numbers from your child's keyring, ask your child to say the numbers in between e.g. 2, 5, 7, 10

Begin to identify odd and even numbers.

Practise writing numbers 0-20. Following the correct number formation and encouraging correct pencil grip.

Recognising 2d and 3d shapes in the environment. Go on a shape hunt around your home.

Creating and repeating patterns: using 2/3/4 colours/objects.

Mathletics website can be accessed daily.

website: topmarks.co.uk (Spring game)
Understanding the world:
Look for changes in the local environment, signs of Spring and new growth.

Make a list of animals that live in different environments.
Create a tally chart to show how many creatures they can find in their garden or on their daily walk.
| | |
| --- | --- |
| Ladybird | III |
| Bee | I |
| Worm | IIII |
| Slug | II |
| Snail | I |
Expressive arts and design:
Listen to and join in with the song of the live theatre version of 'The tiger who came to tea' YouTube The Tiger Who Came to Tea at QPAC

Encourage them to explore a variety of different media to create a wild animal picture or 3d model. You could use paint, glue, pens, pencils, pastels, chalks and box modelling. Encourage them to talk about their creations.

Practise drawing animals and where they live e.g. a jungle picture, a garden picture, a forest picture, an underwater picture. Encourage your child to tell you about what they have drawn and why.

Bake biscuits or buns, discuss the ingredients needed and how to make them. Take some photos of the different stages then ask your child to sequence them. Discuss what they did first, second and last etc.
______________________________________________________________________________________________________________________________________________________
Shrove Tuesday 2020:
To celebrate Shrove Tuesday we made our own pancakes. We followed a recipe and chose our own toppings. We practised using a knife and fork, cutting the pancake in half. They were delicious.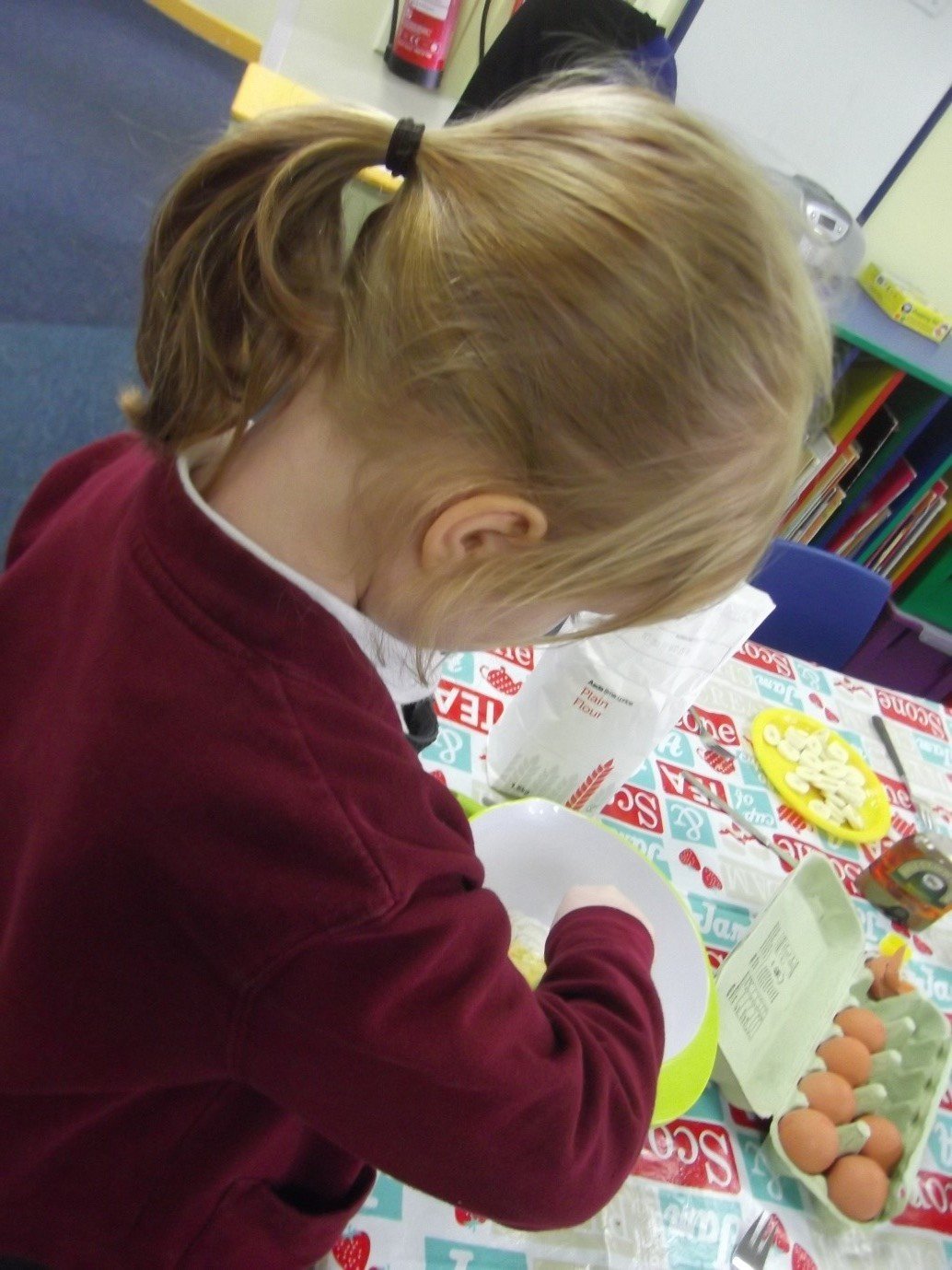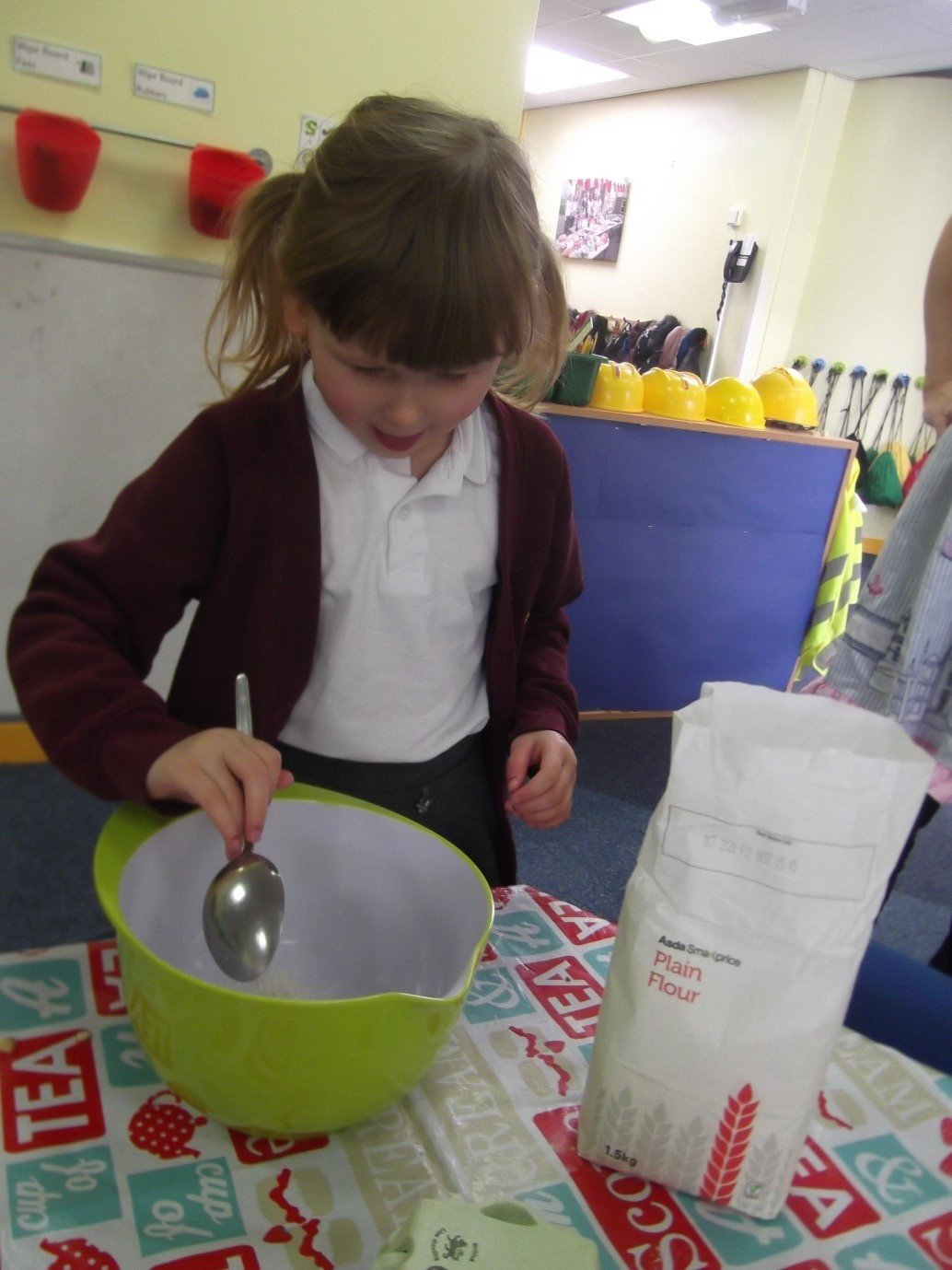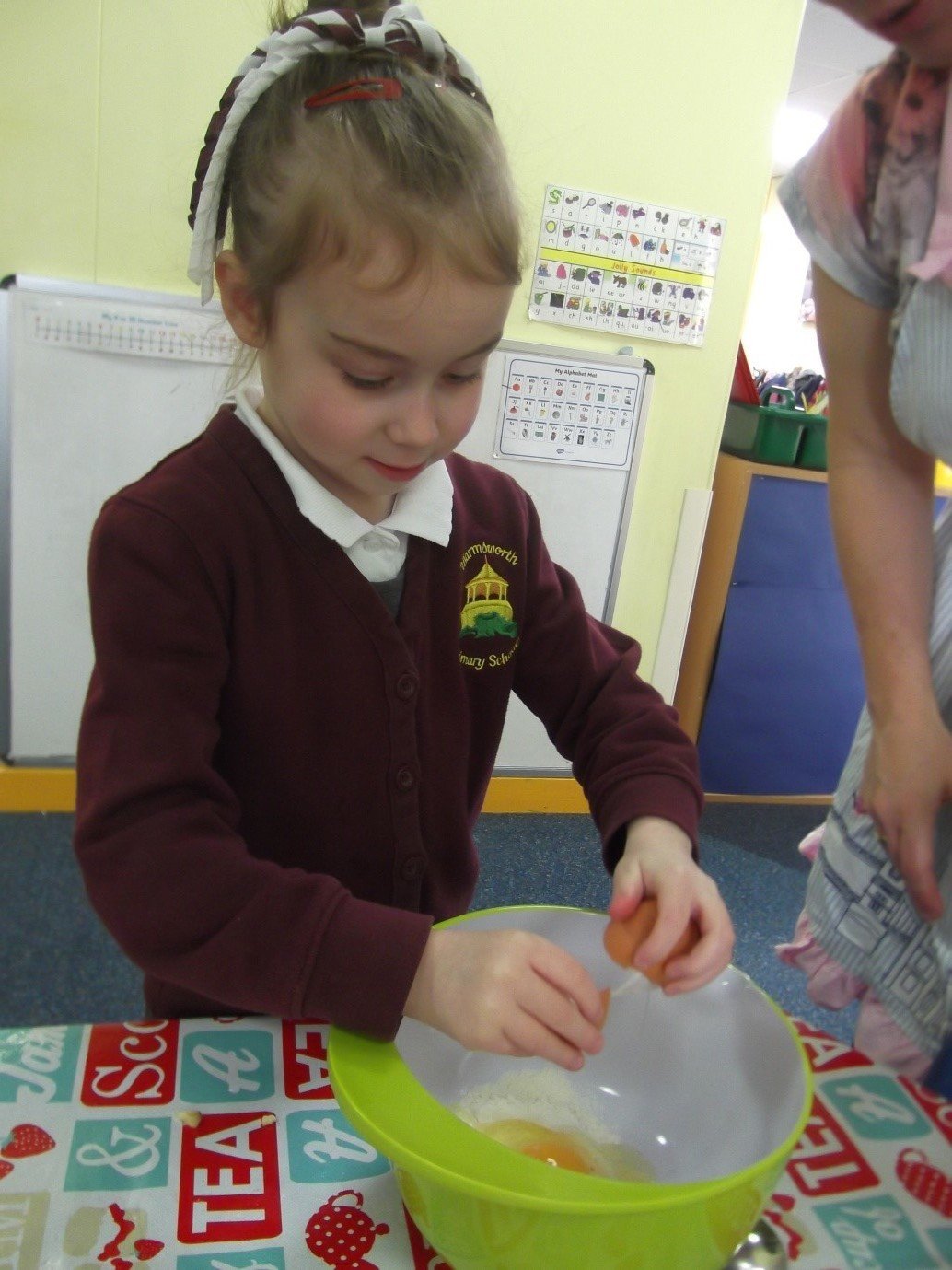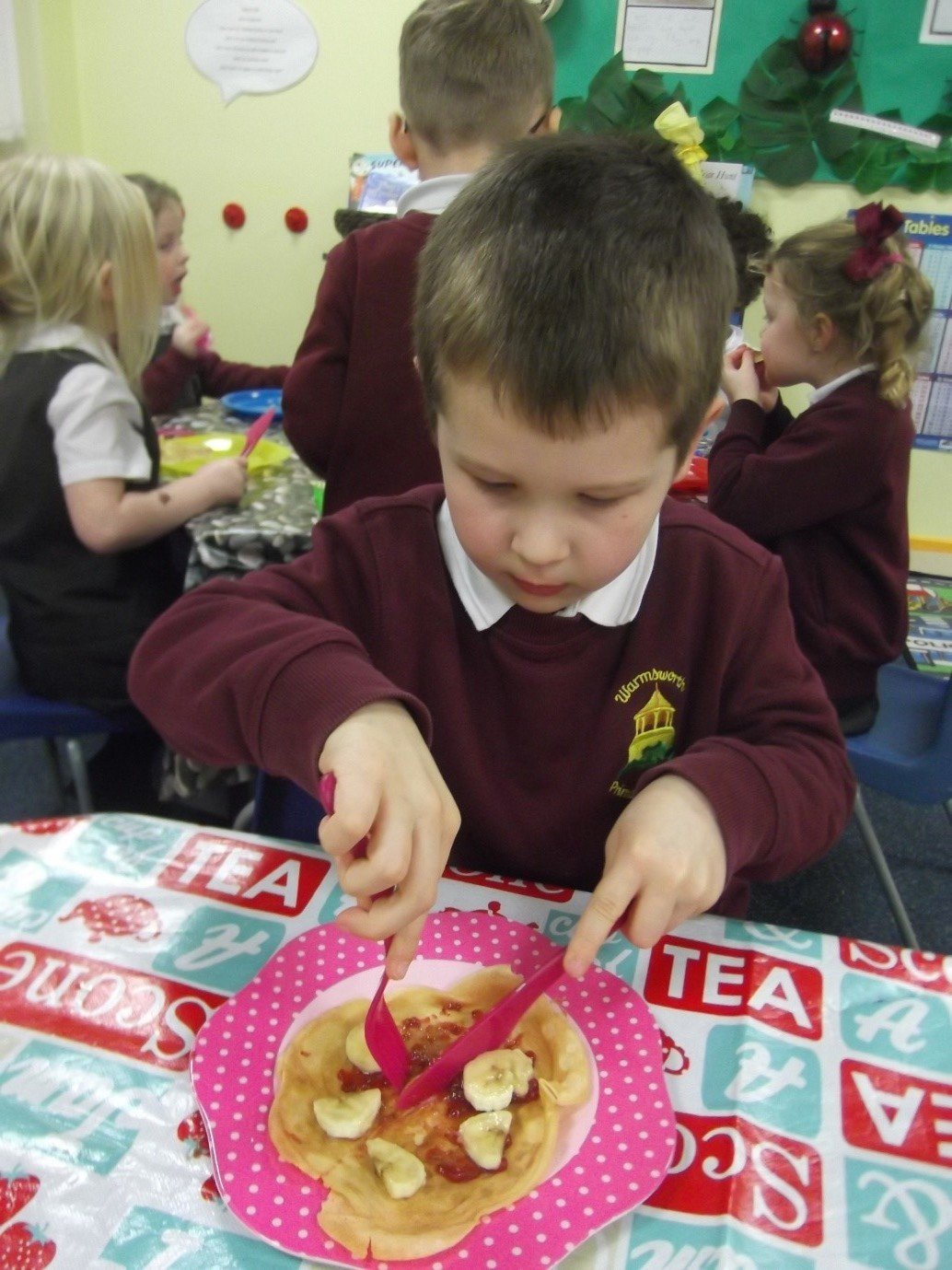 Christmas 2019:
F2 enjoyed putting their Christmas jumpers on for Christmas Jumper day.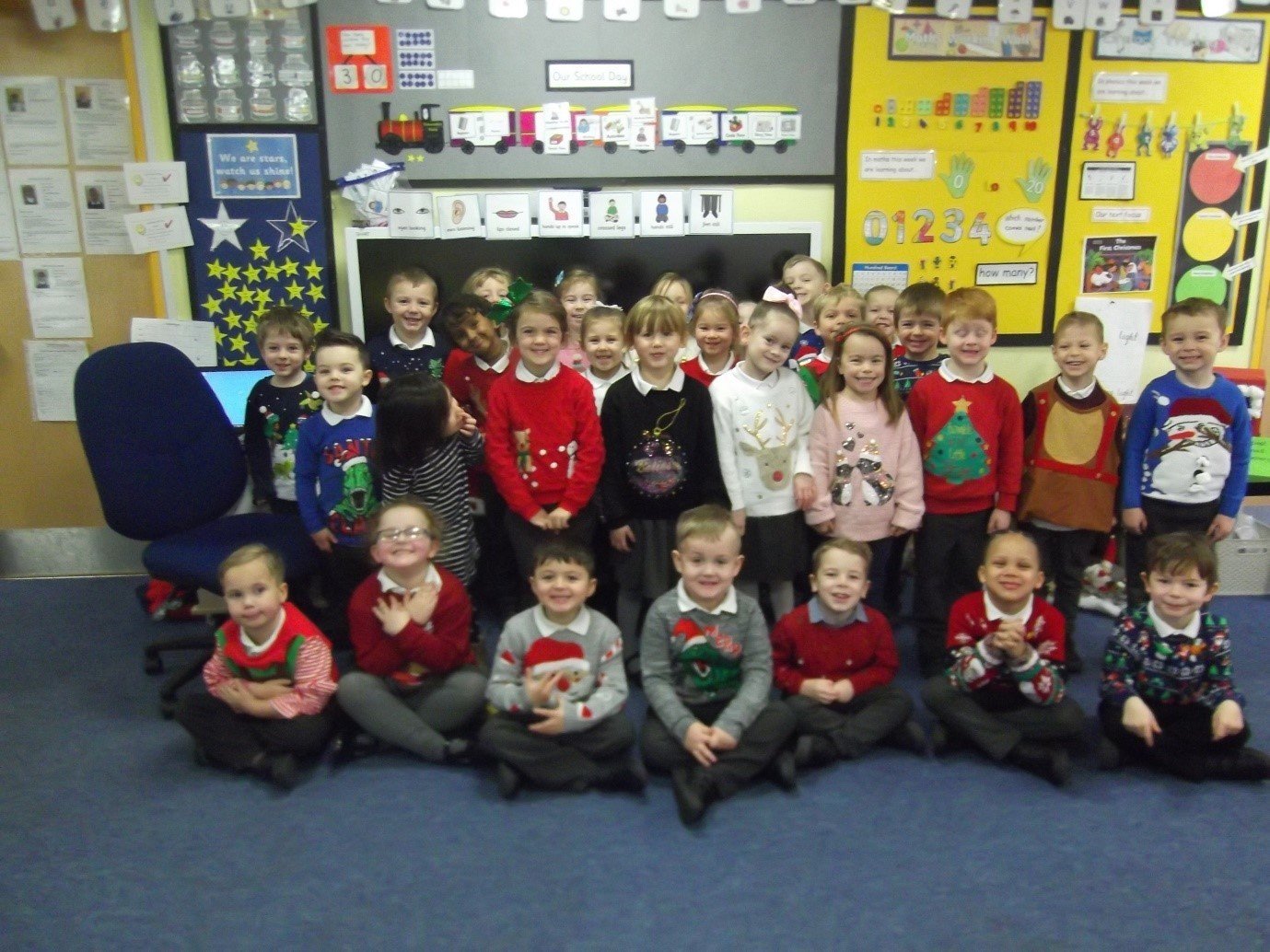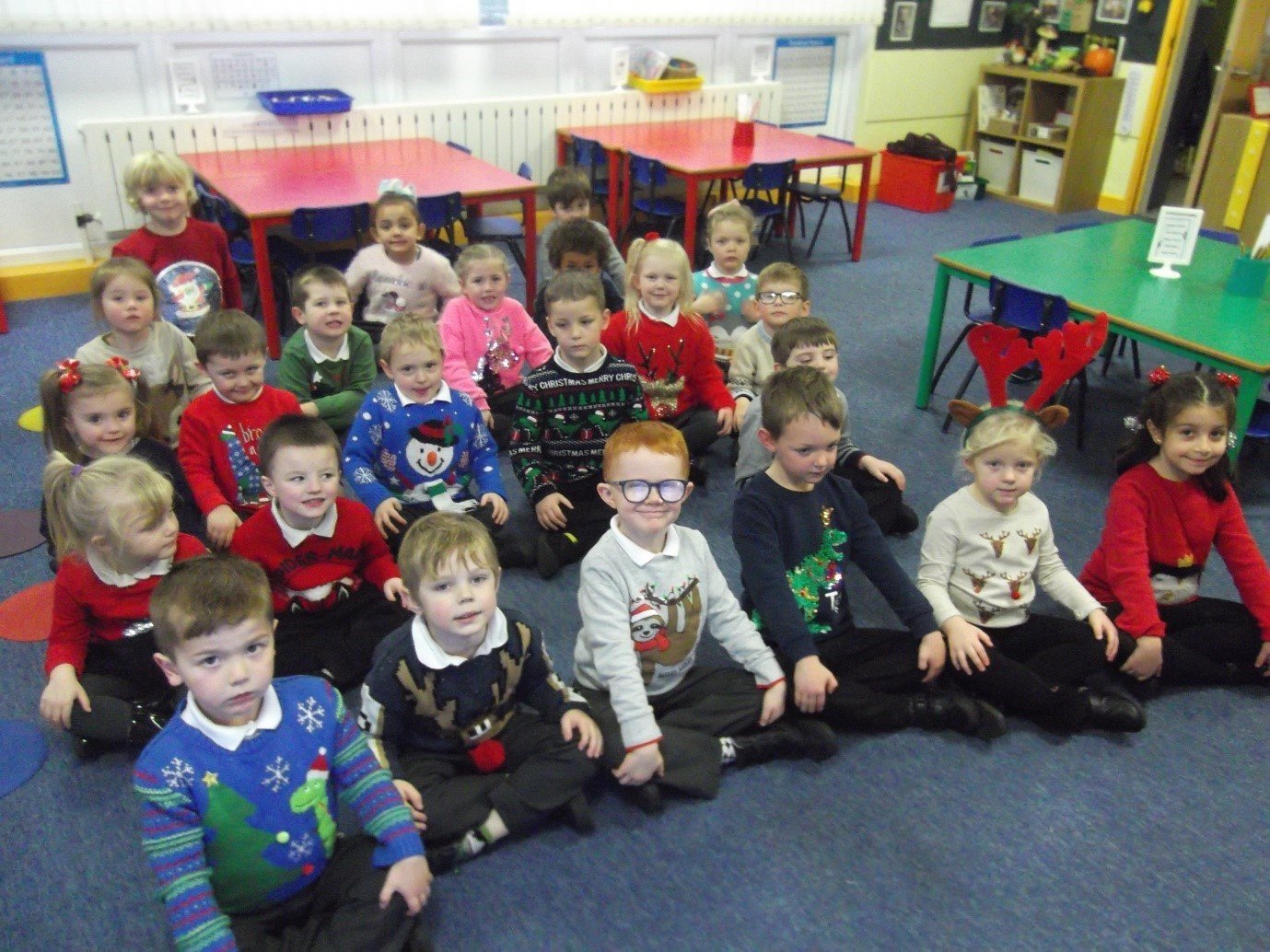 The children made a fantastic effort and enjoyed having their Christmas dinner whilst dressed up, feeling all Christmassy!!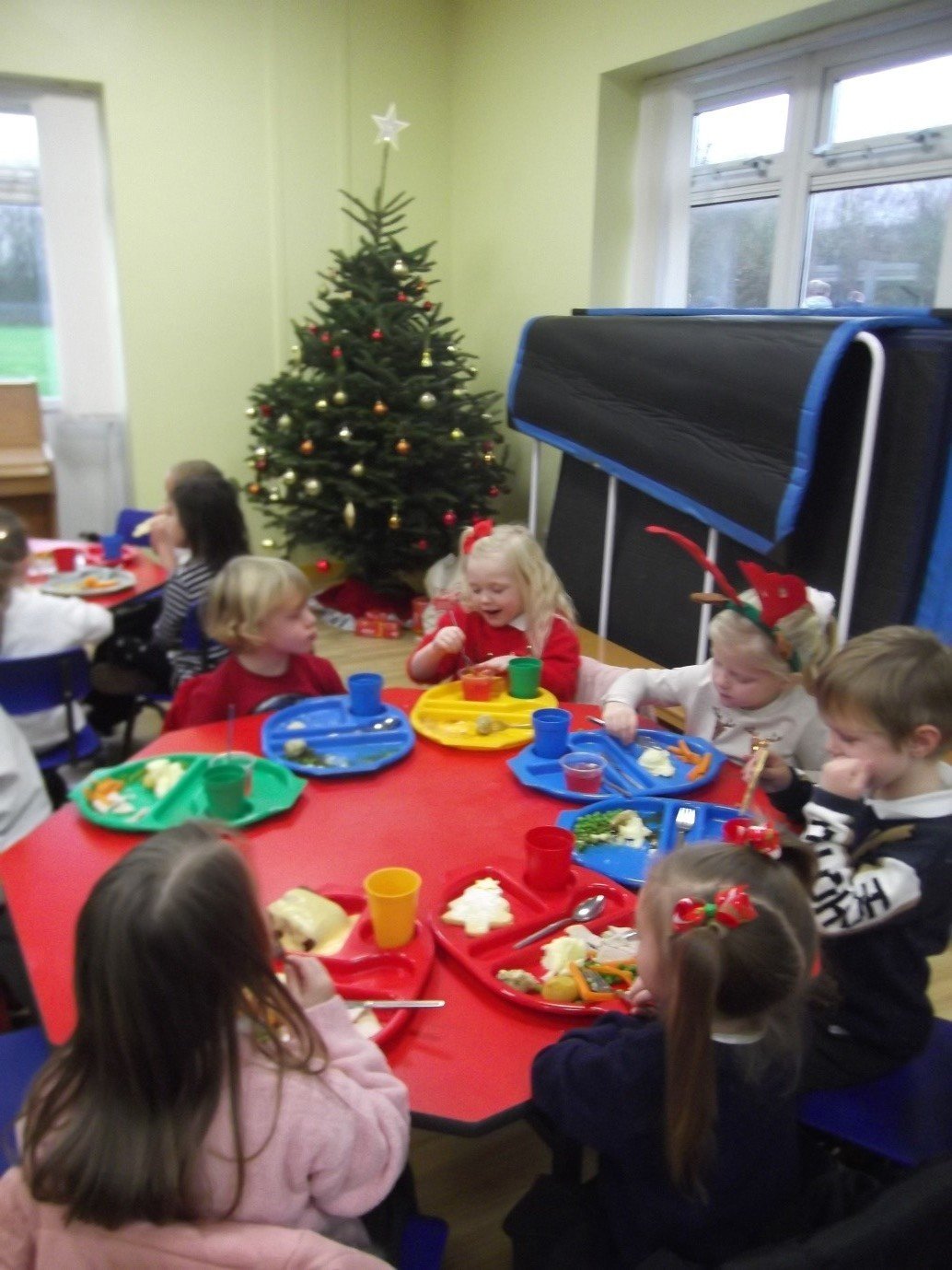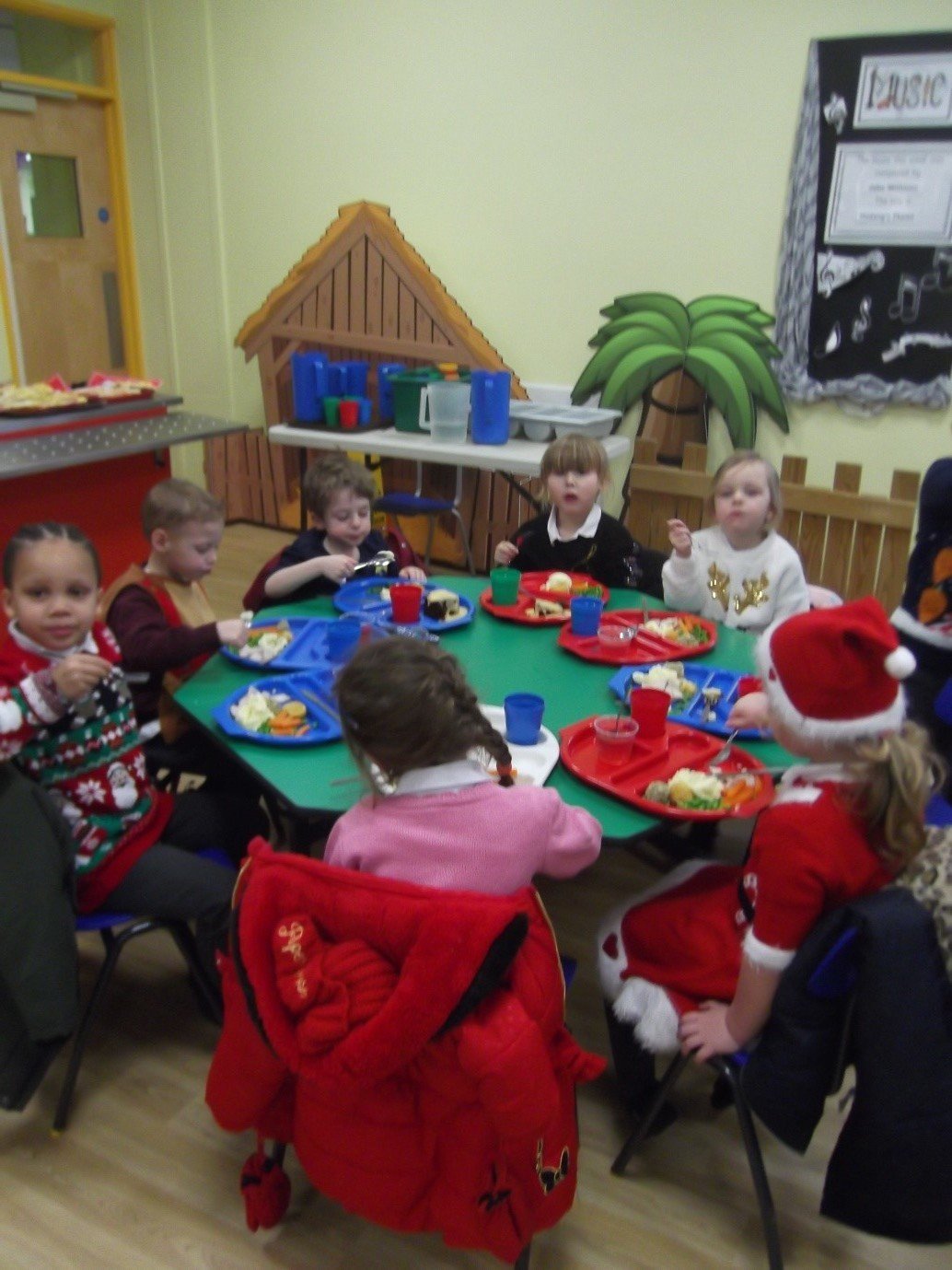 We had fun making table decorations for our Christmas party with Mr Wilson. We made them out of foliage, holly, ivy and berries and worked together as team to make them.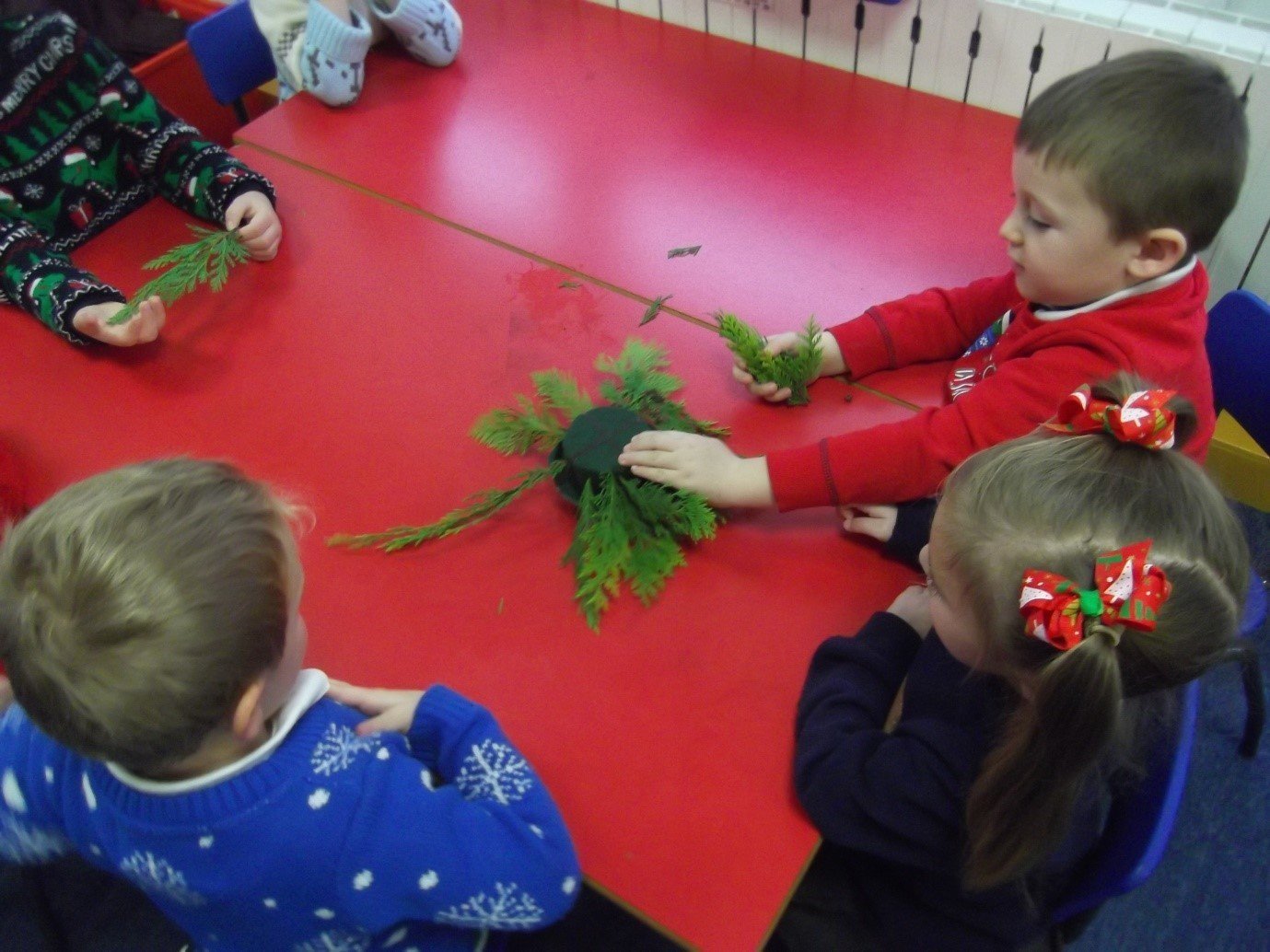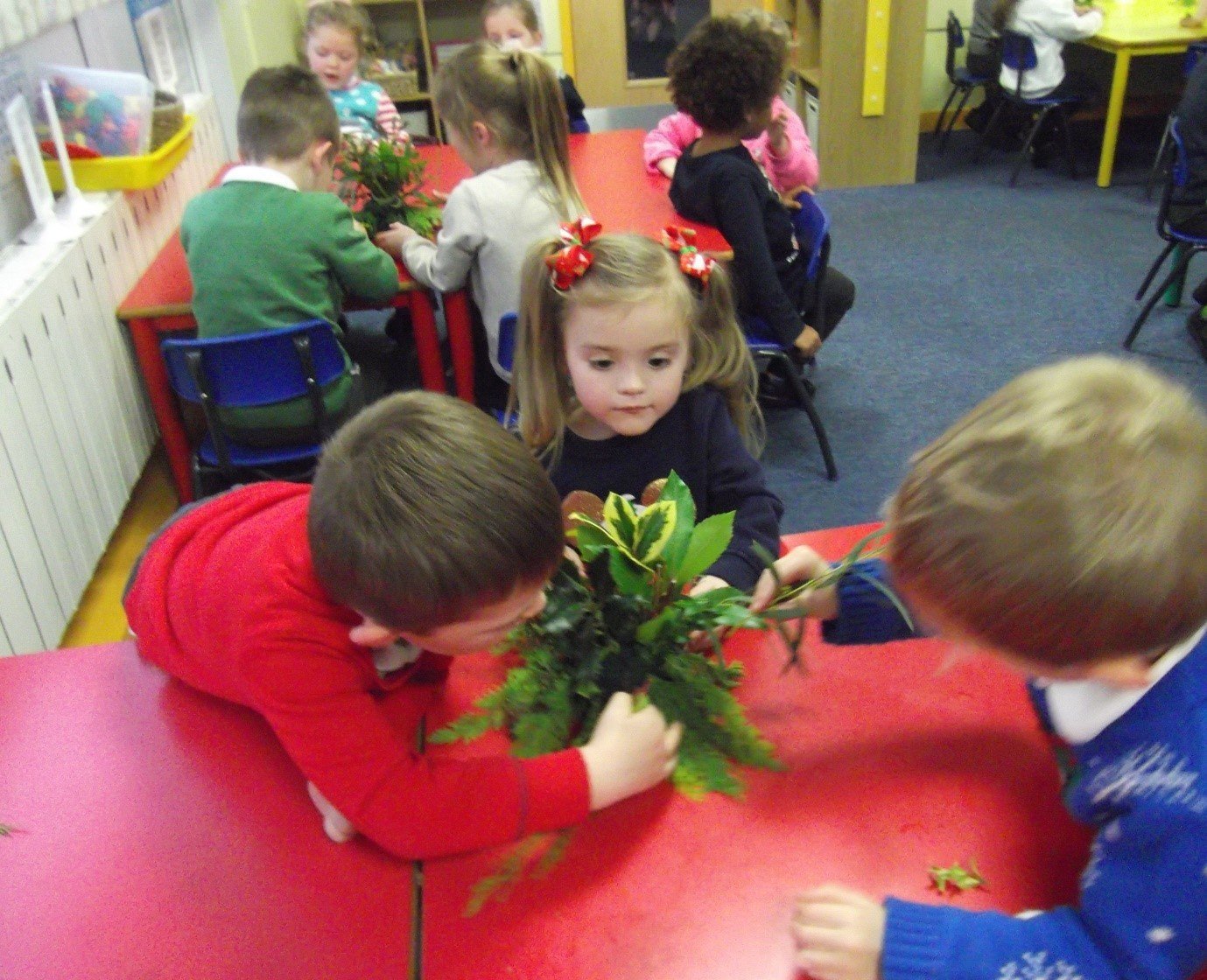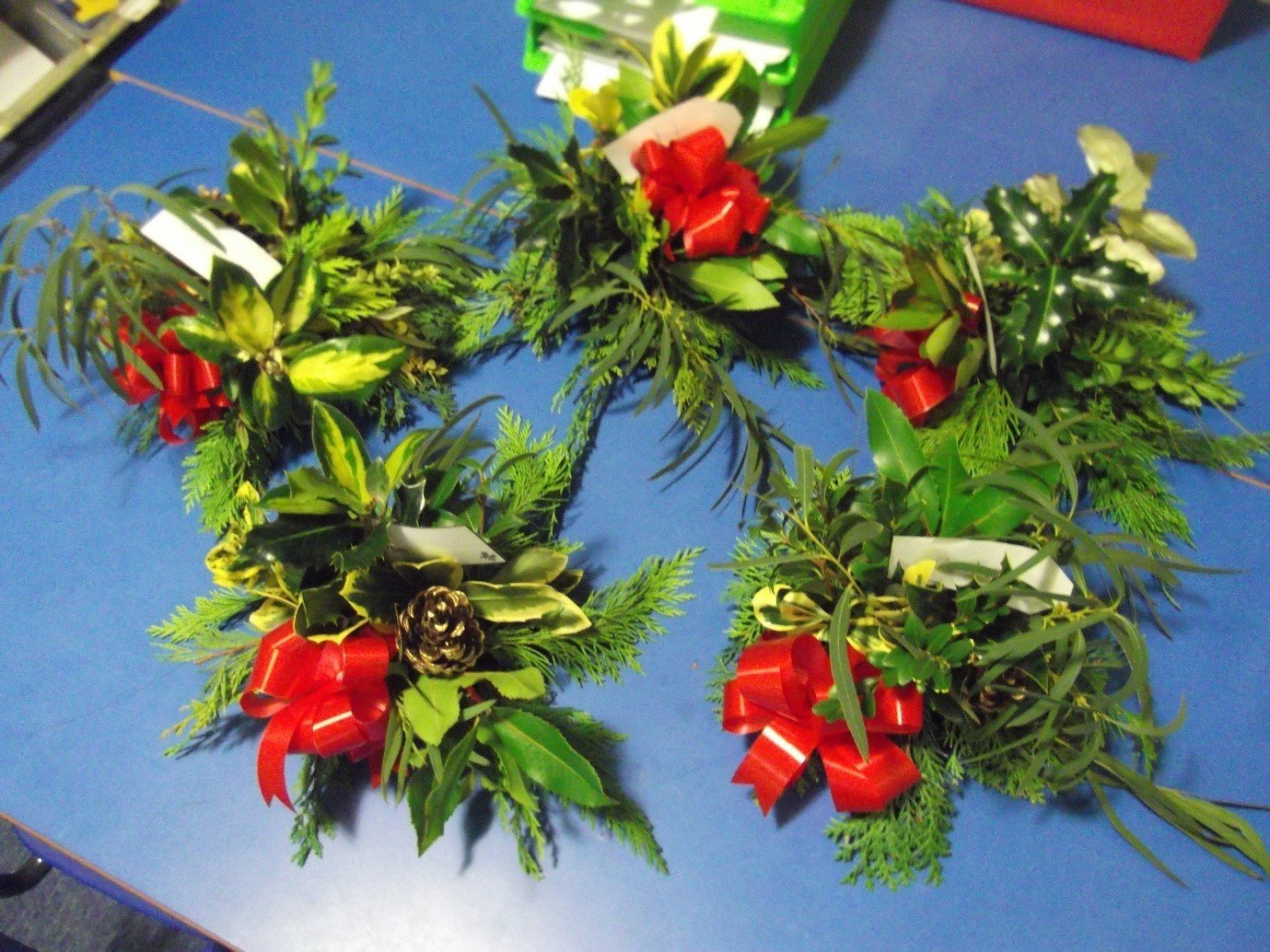 We really enjoyed the lovely food and games at our Christmas party, we had lots of fun!!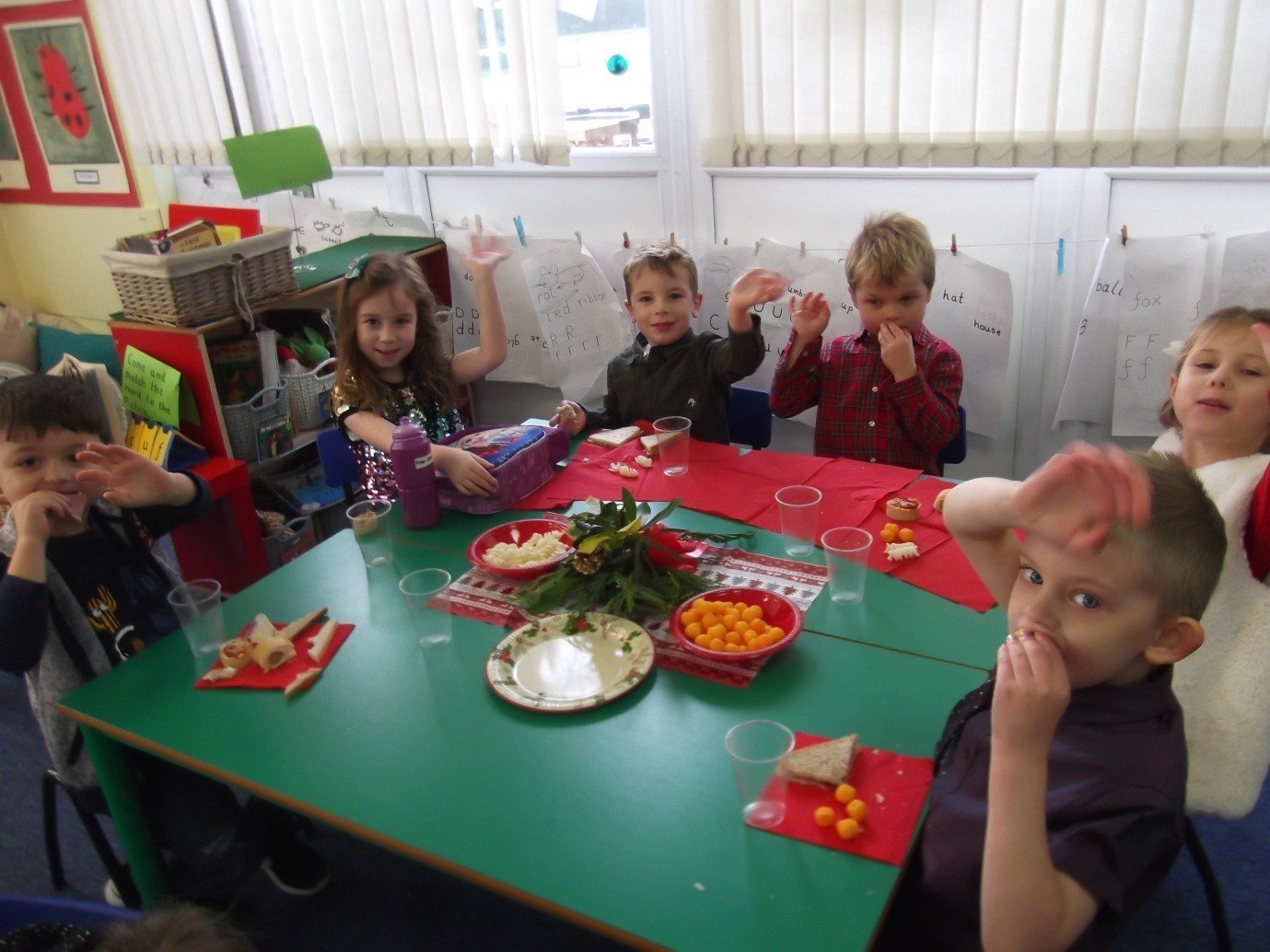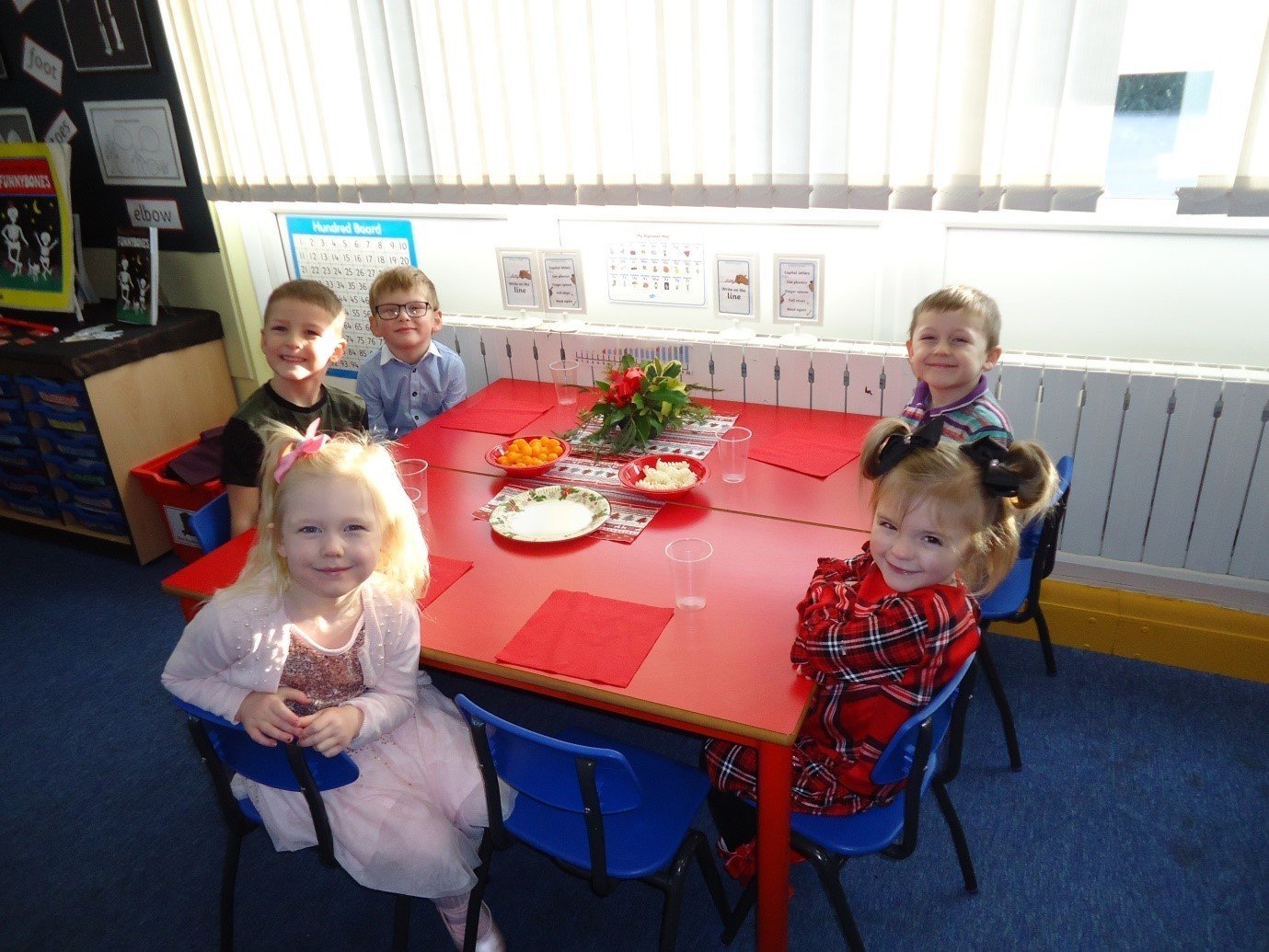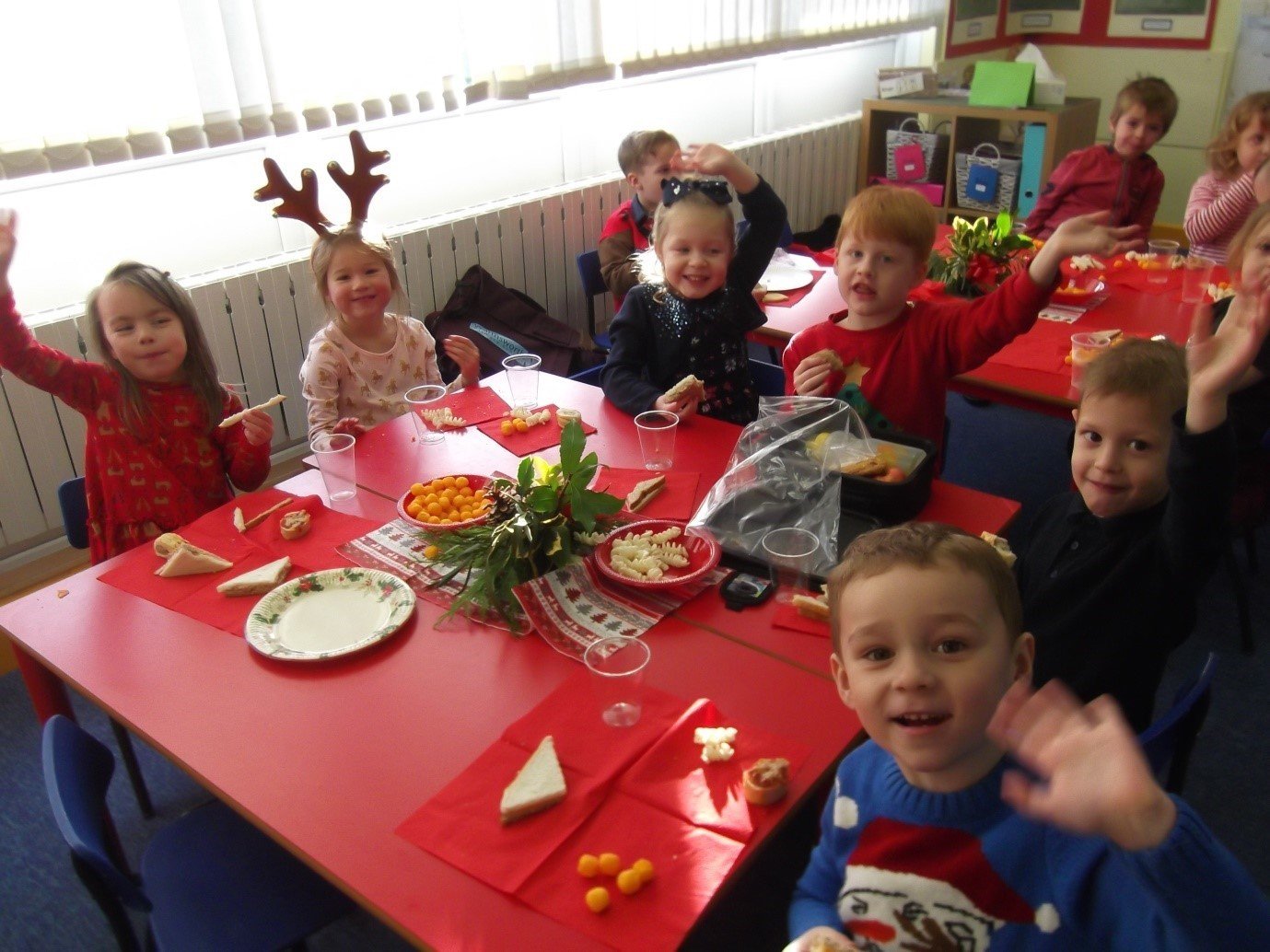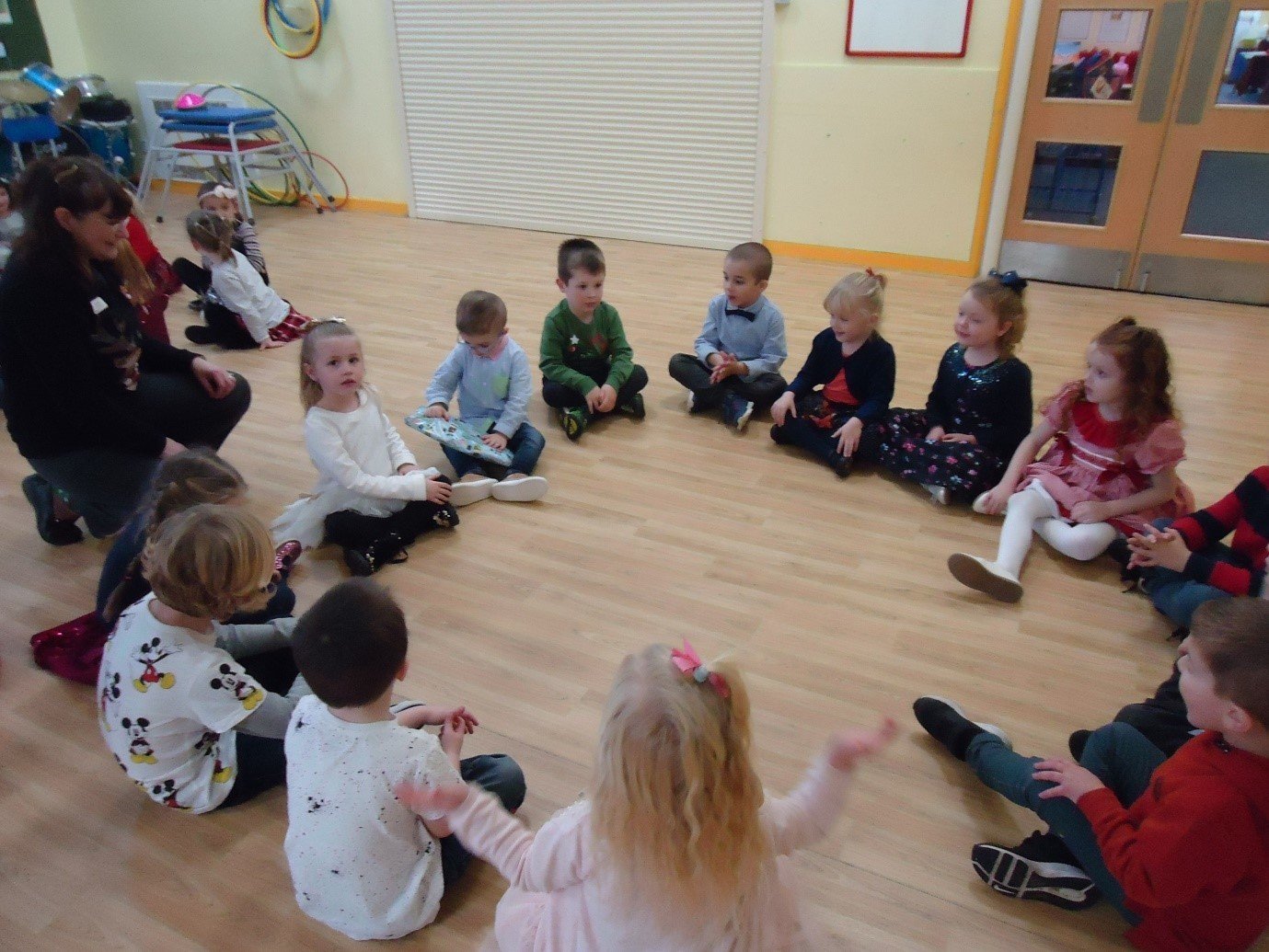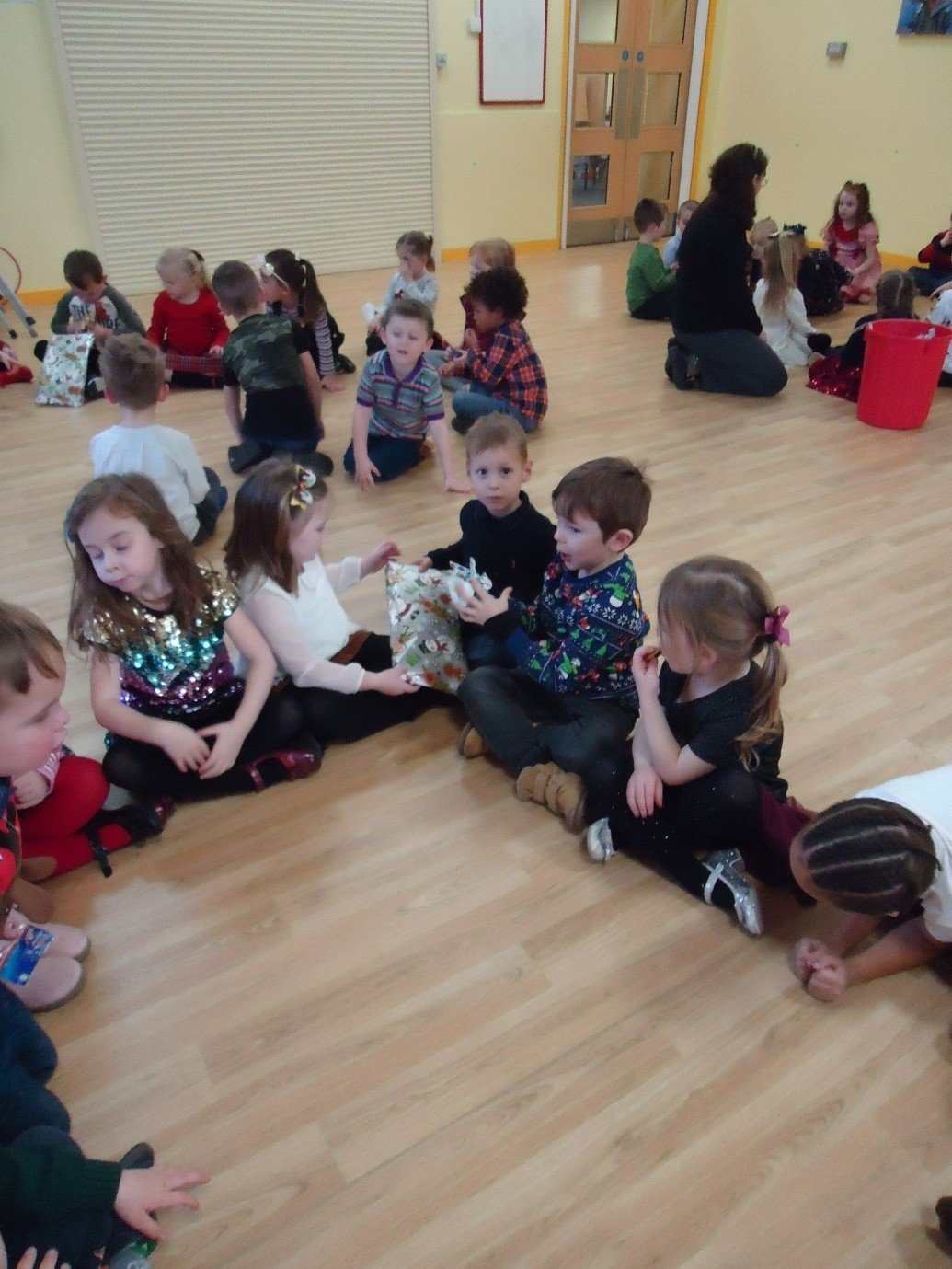 French Day:
We have celebrated French day this half term. We watched a video of a French bakery making croissants and talked about the different amount of layers in a croissant (between 12 and 16). We also looked at photos and videos of the Eiffel tower and had a group discussion about how tall it is as well as how people get to the top. The children were very good at saying hello, goodbye, and thank you in French.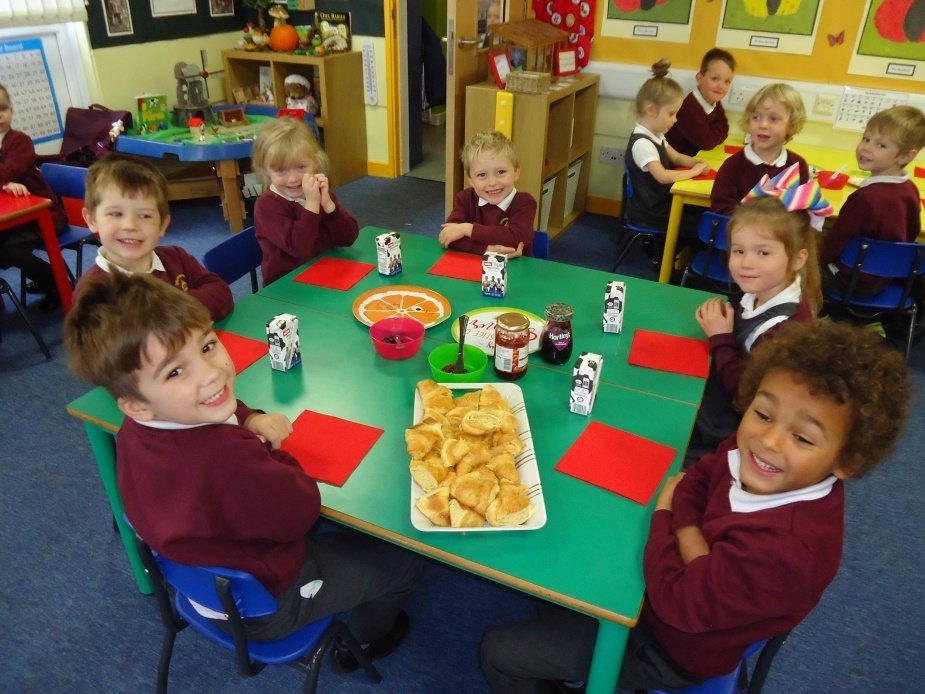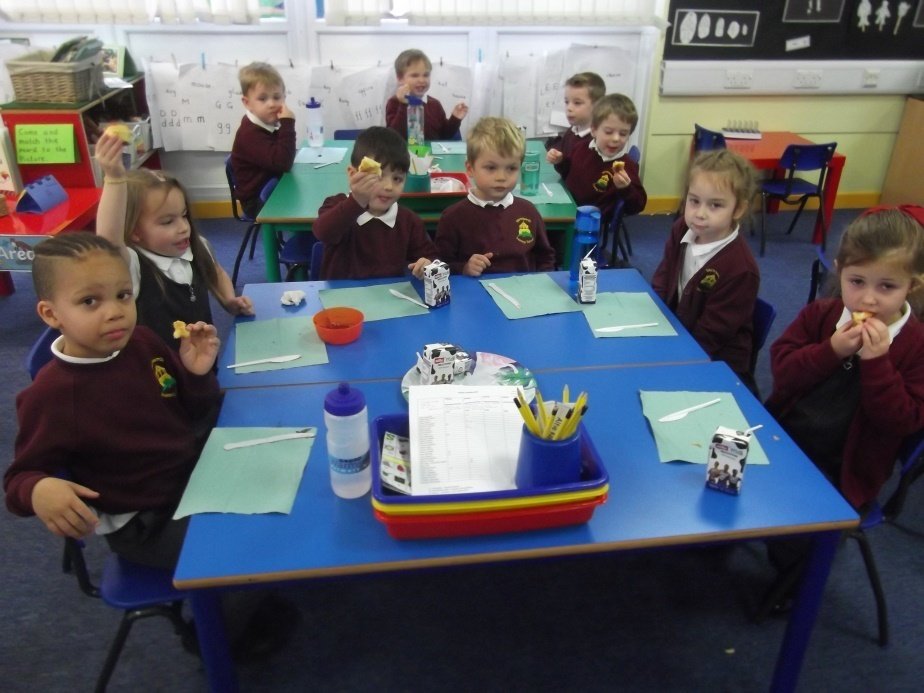 Smile Week:
The children enjoyed wearing odd socks to support anti bullying week.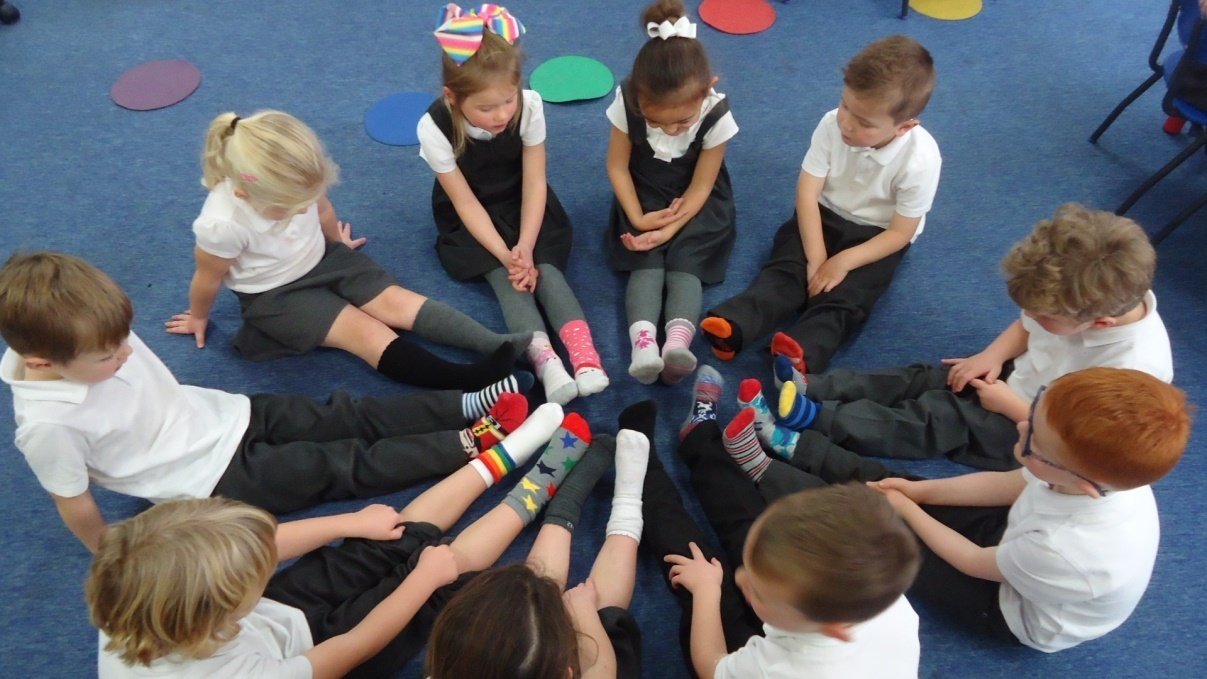 Faith Day:
We have also learnt about the story of Rama and Sita for our Inter Faith Day. We enjoyed dressing up and re telling the story with masks and we made Rangoli patterns.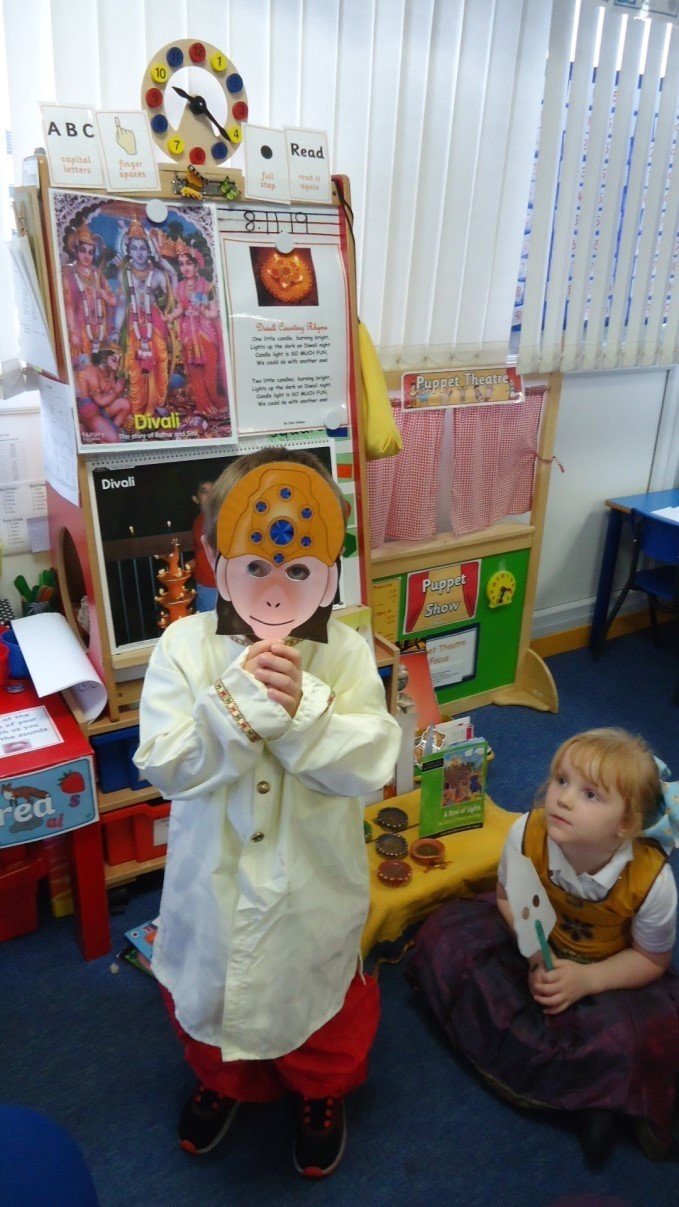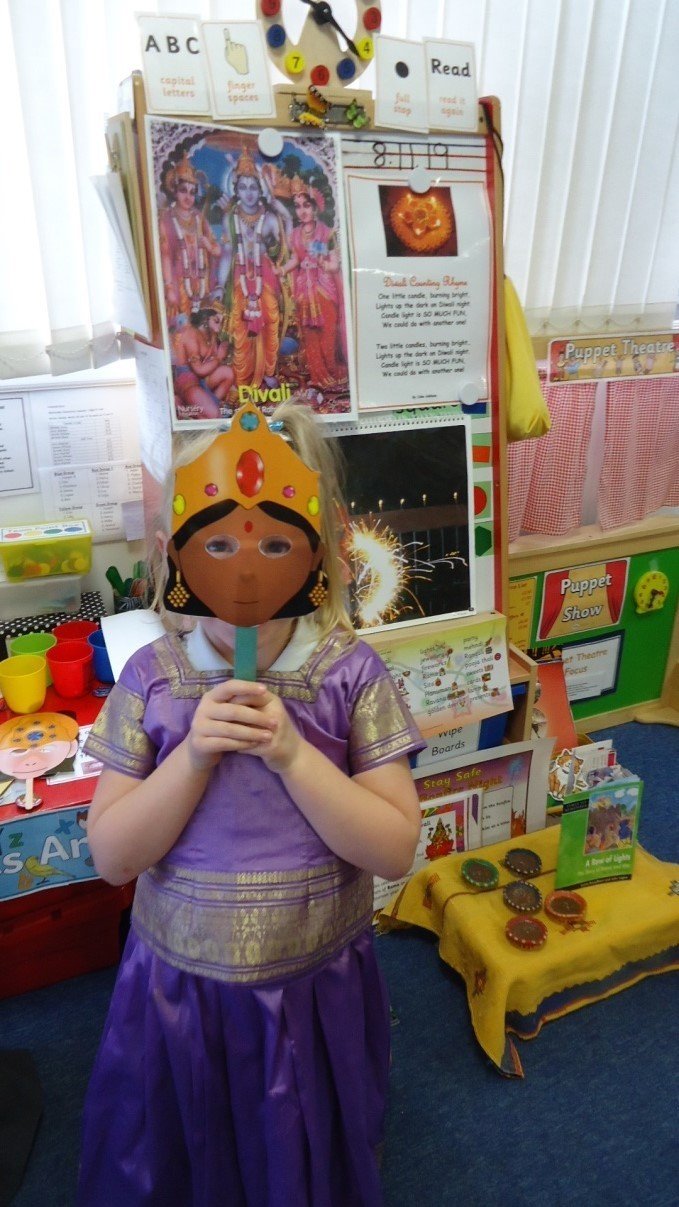 Little Red Hen:
As part of our learning about the Little Red Hen the children learnt how to follow instructions to bake bread. The children helped to knead the bread and thoroughly enjoyed tasting it with a choice of butter, cheese or jam as their topping.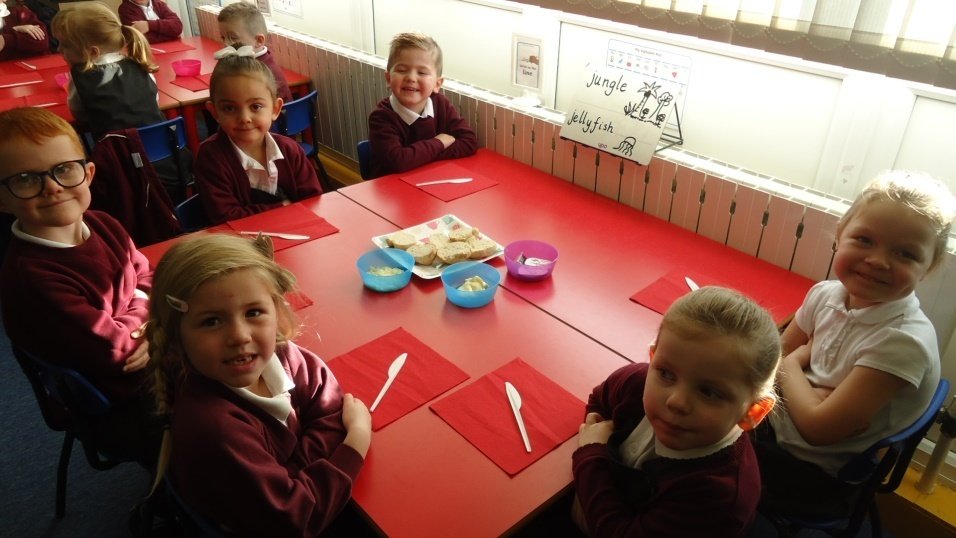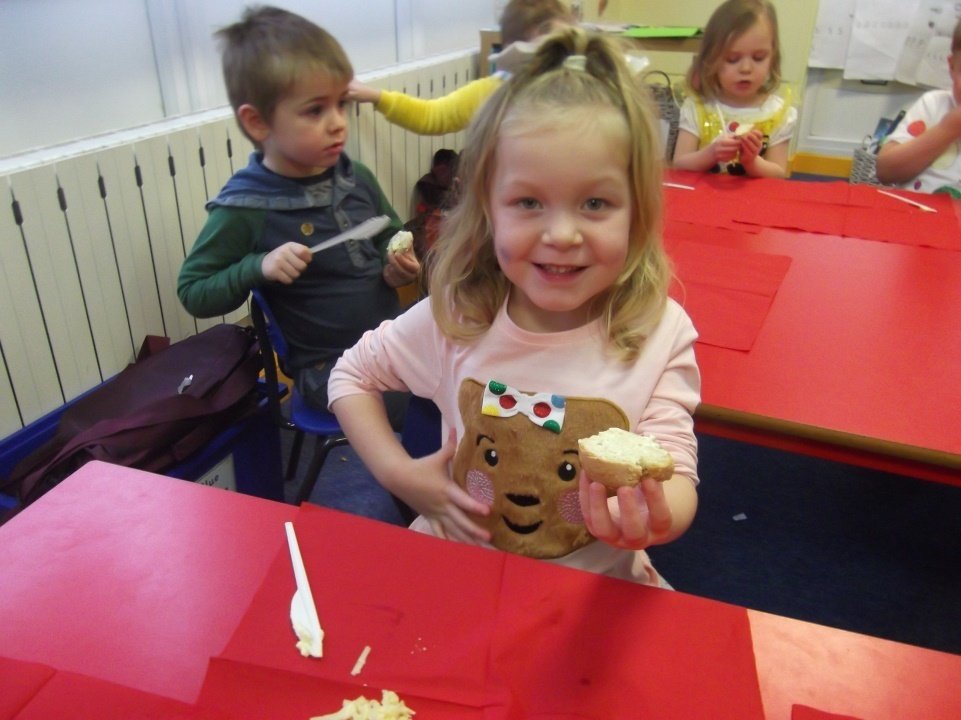 Visiting the poly tunnel:
The F2 children enjoyed a visit to the poly tunnel, where they looked at all the harvested crops. They were really interested in how the food grows and what they could and couldn't eat.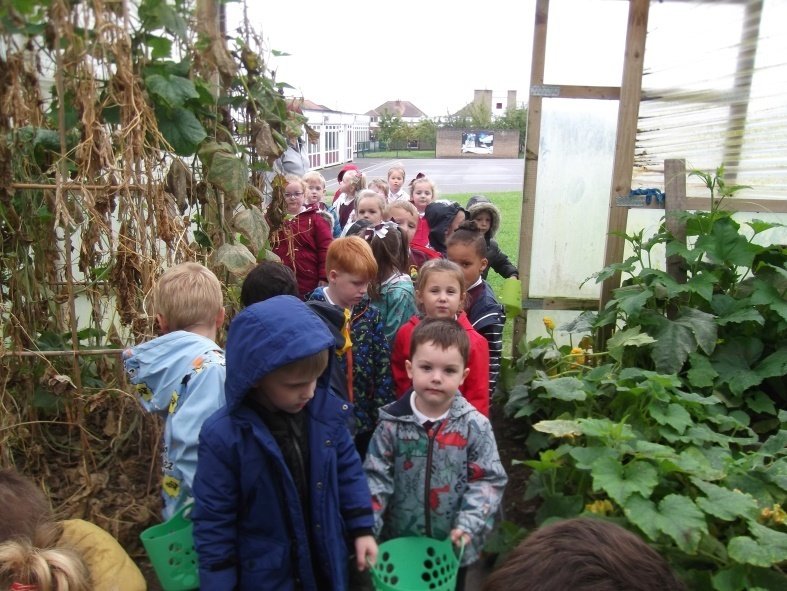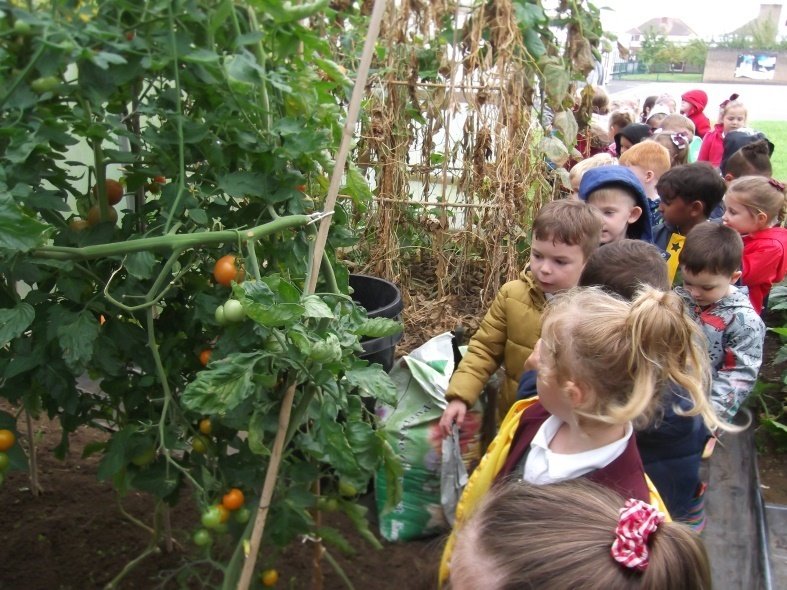 When we got back to class we talked about the food and natural things we had collected. We sorted them into different groups and enjoyed using them to learn with.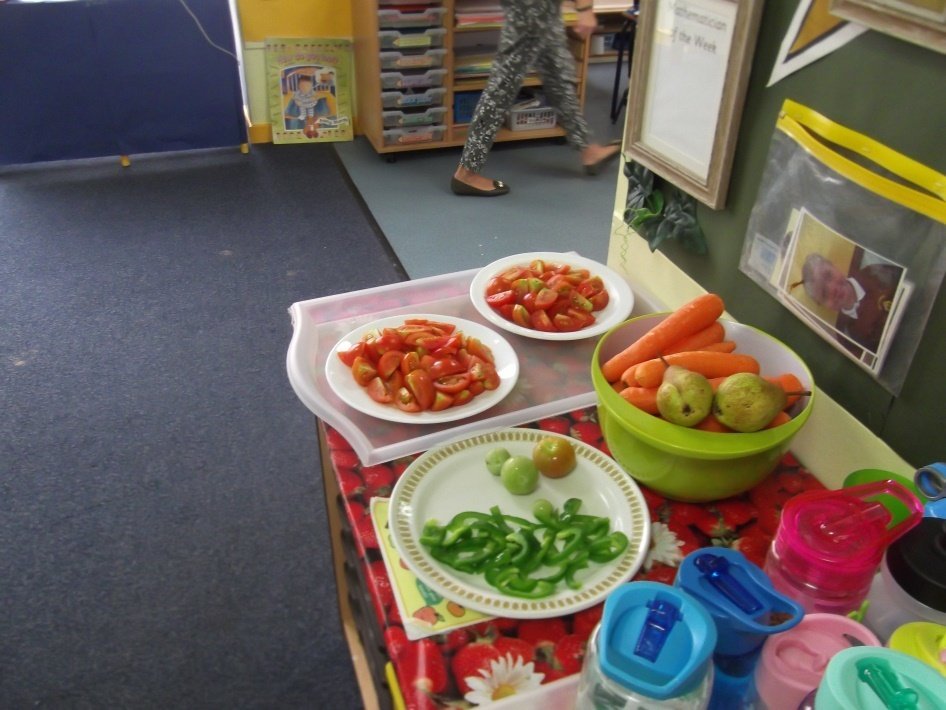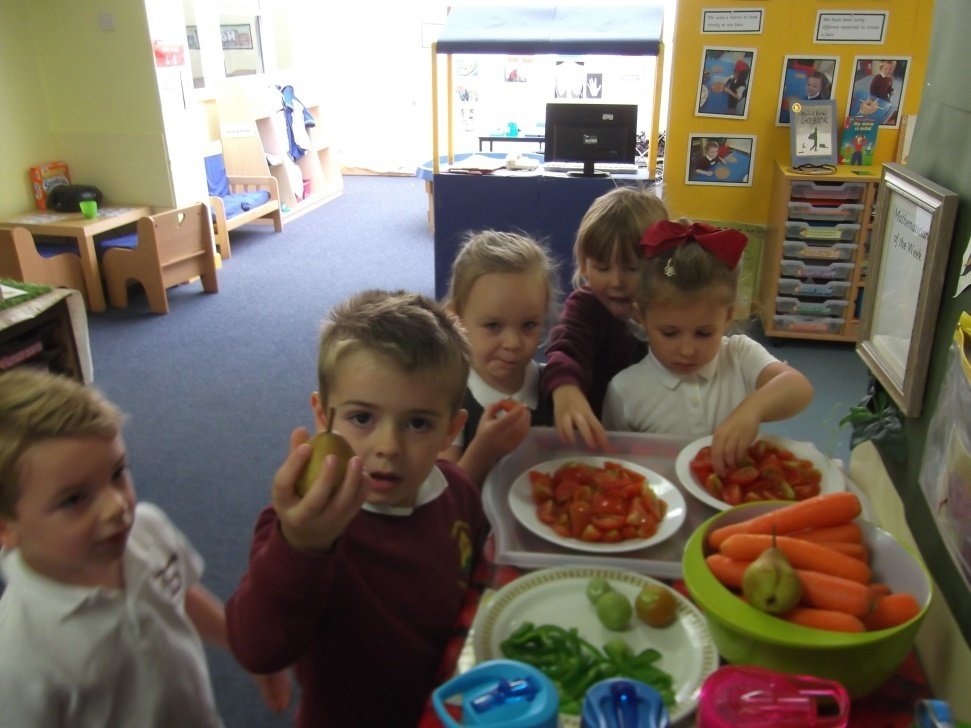 After completing their learning, they enjoyed tasting the different foods we had picked and collected from the poly tunnel. The tomatoes were very popular.
Welly Wednesday:
The children have really enjoyed their weekly 'Welly Wednesday' visit to the woods. They have investigated and explored the woods and have enjoyed going on bug hunts as well as looking for signs of Autumn. They have really liked improving our bug hotel where they collected lots of twigs, leaves and natural resources for the bugs to live and hide in.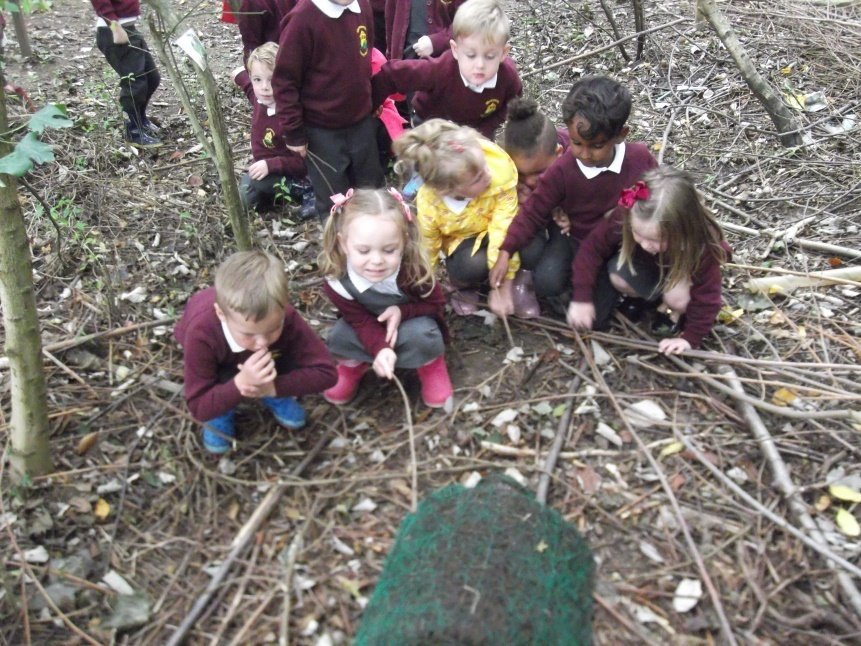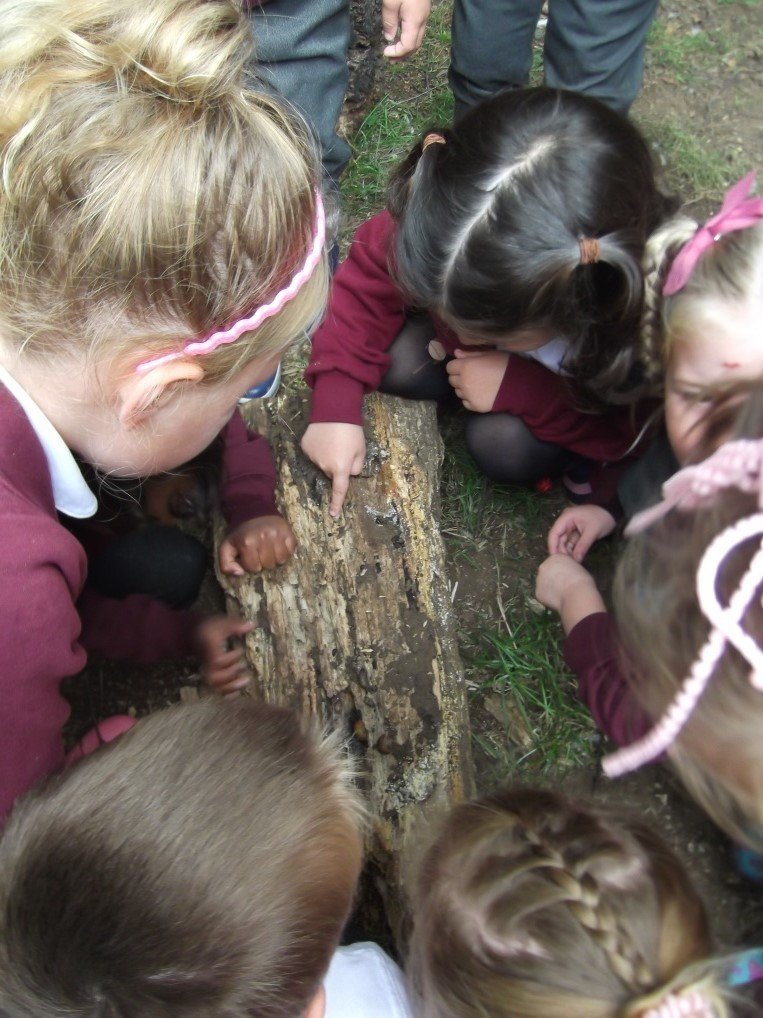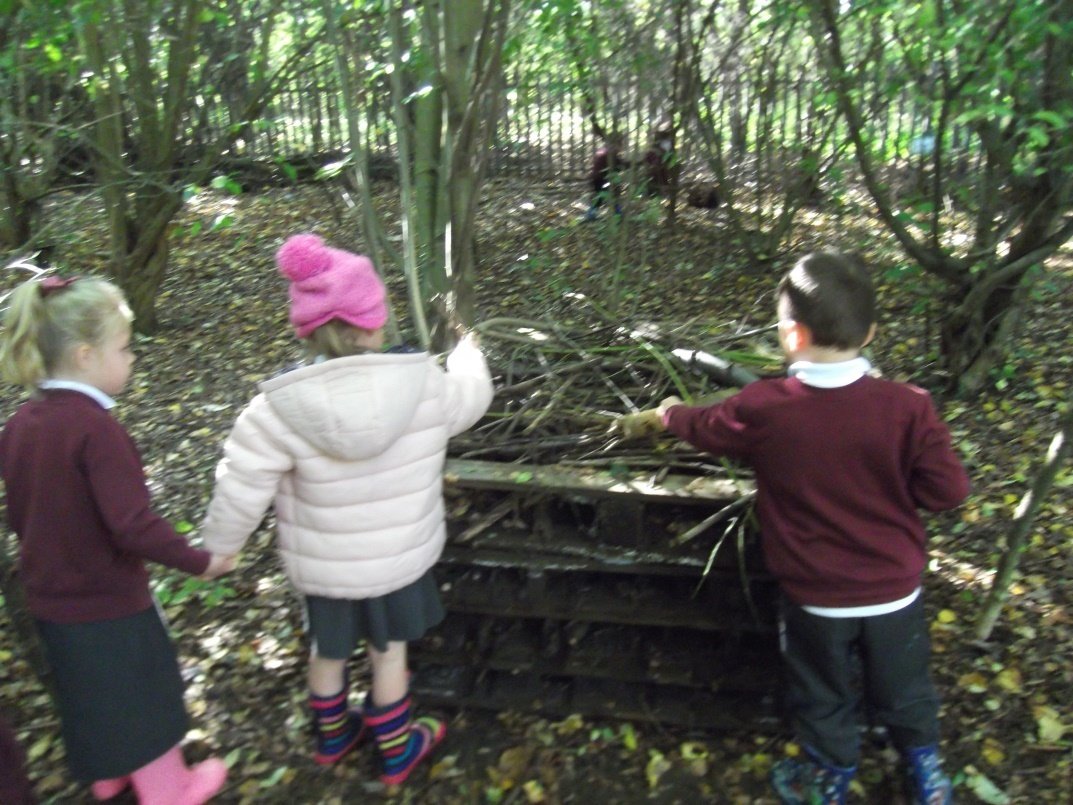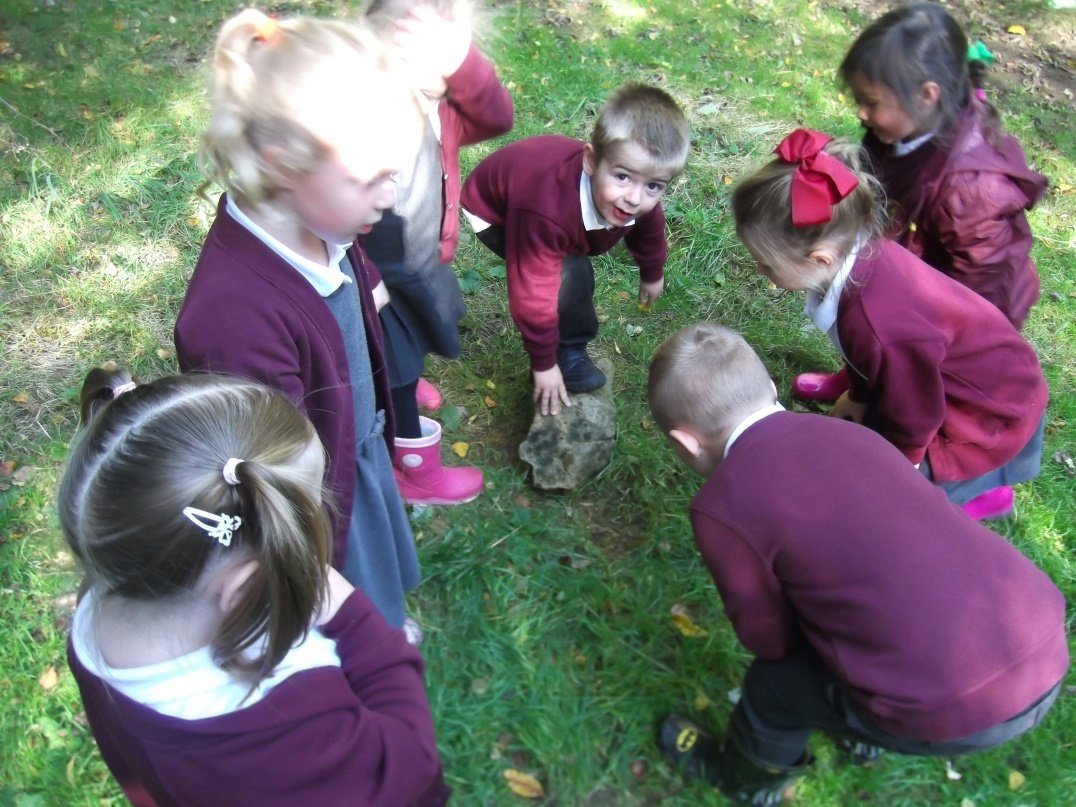 On On Welly Wednesday this week we enjoyed finding out what Sycamore Keys were. We had lots of fun throwing them in the air and watching them fall like helicopters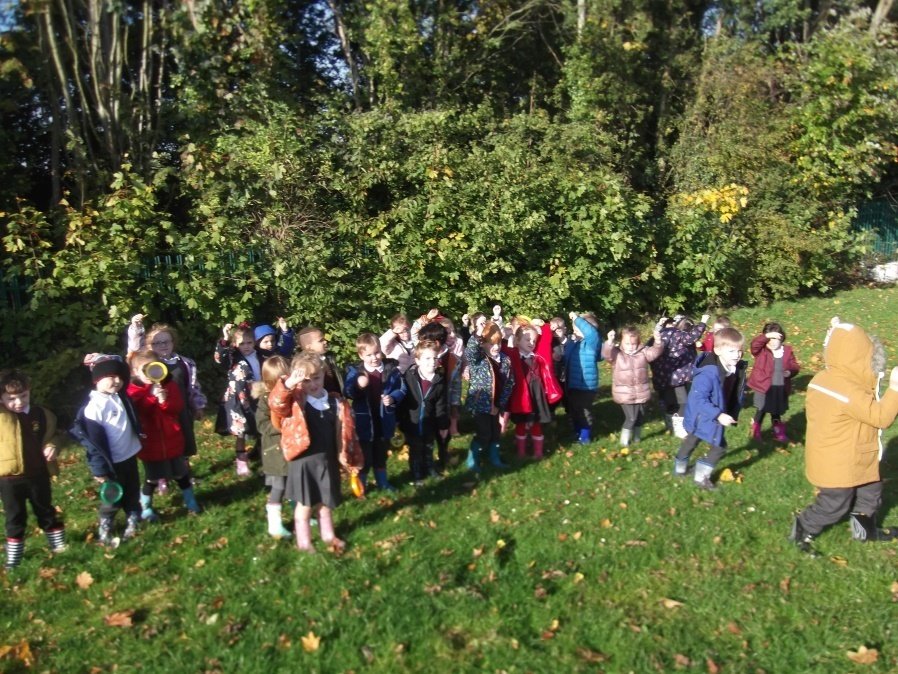 Autumn term - Our Learning:
F2 have been really busy in their first half term at school. They have really enjoyed accessing the F2 provision as well as completing lots of exciting learning. Here are some things they have been enjoying: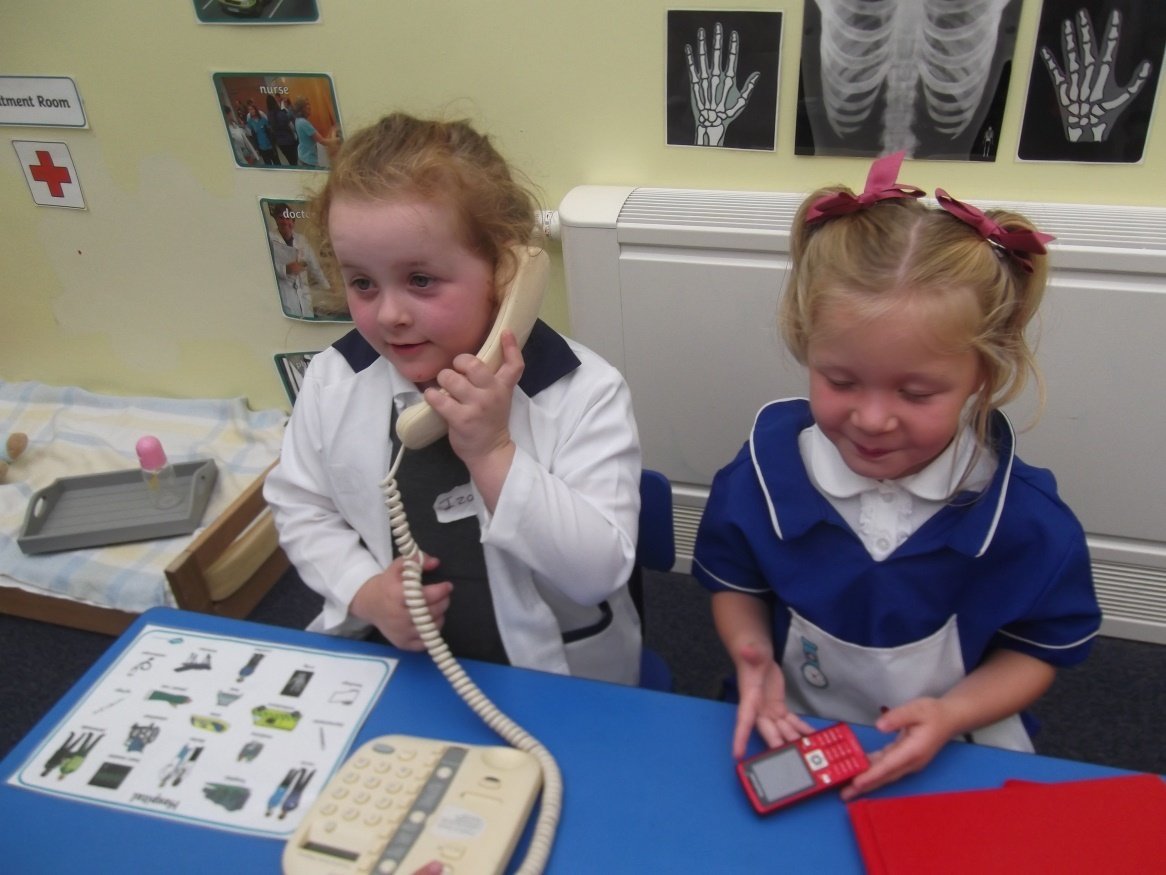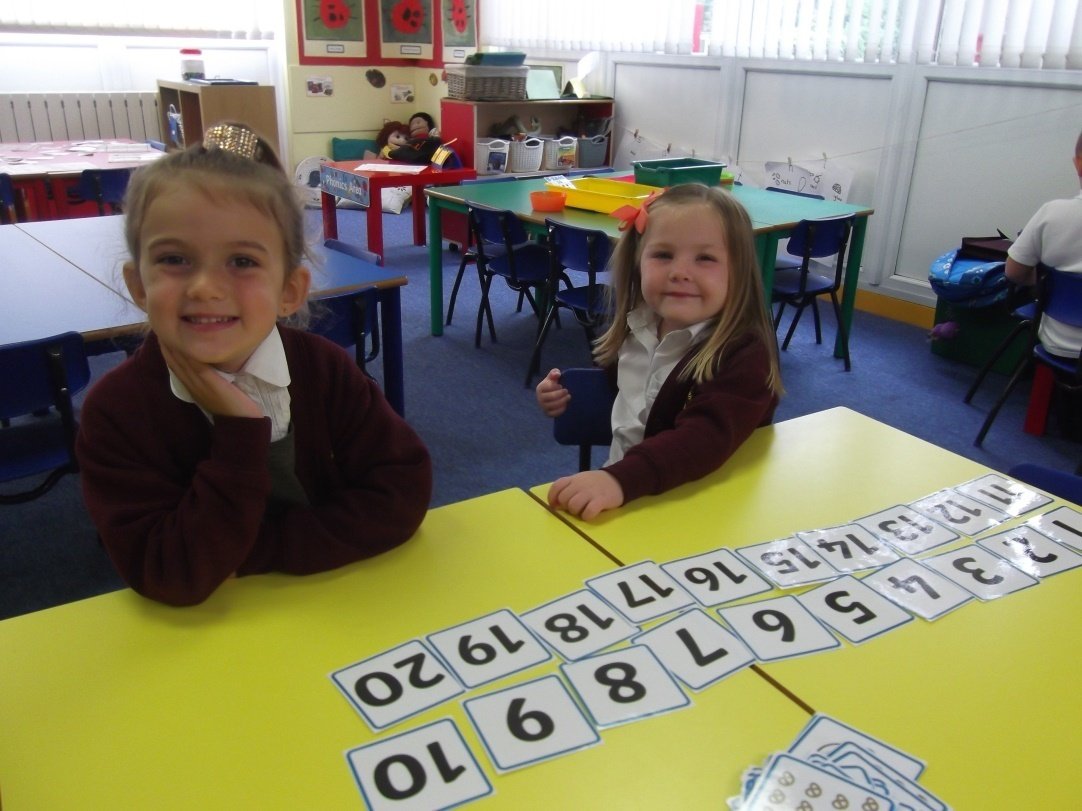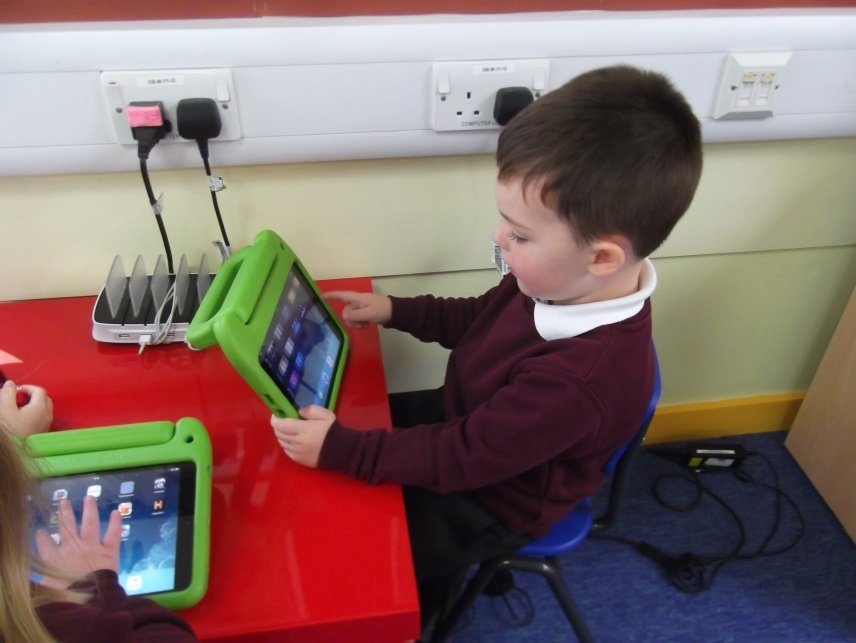 "We are playing doctors" "We can order our numbers to 20" "I like playing on the iPad and learning
"Do you need to see a doctor?" how to play new games"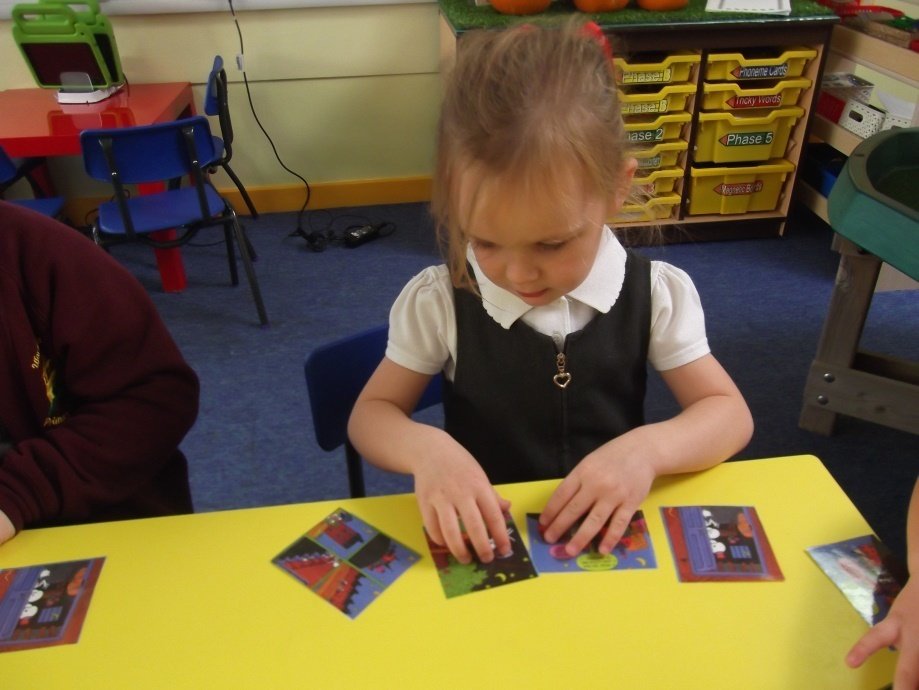 "I can put Funnybone story pictures in the correct order"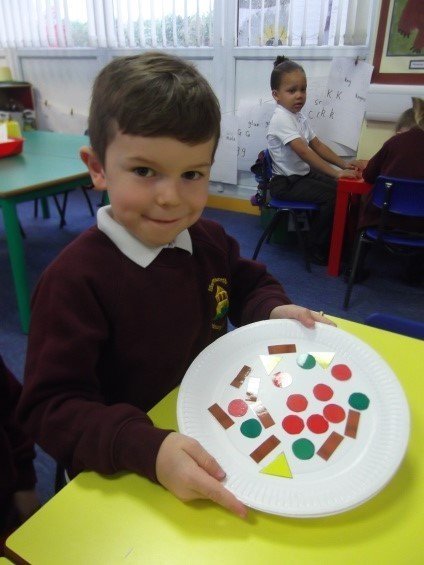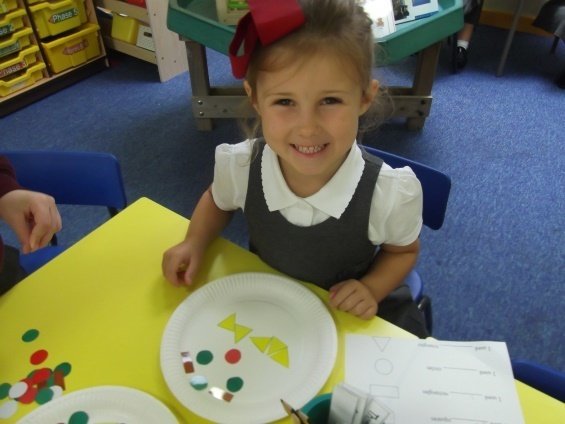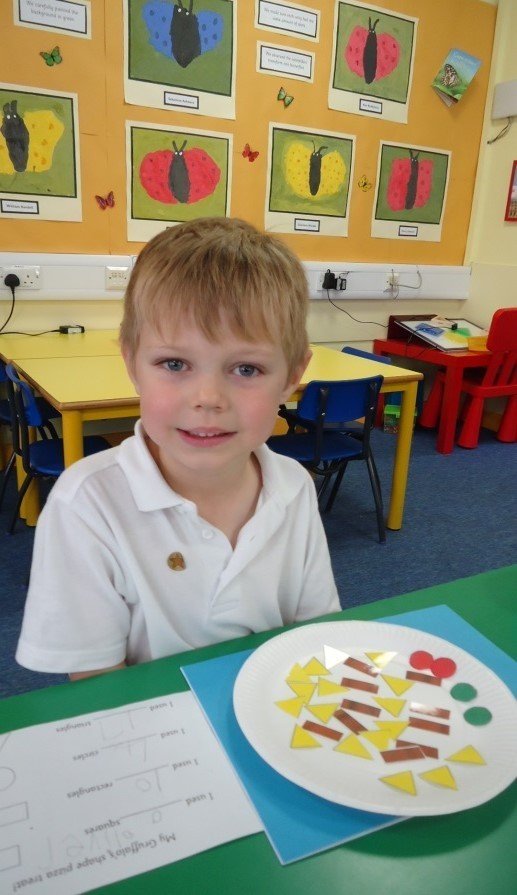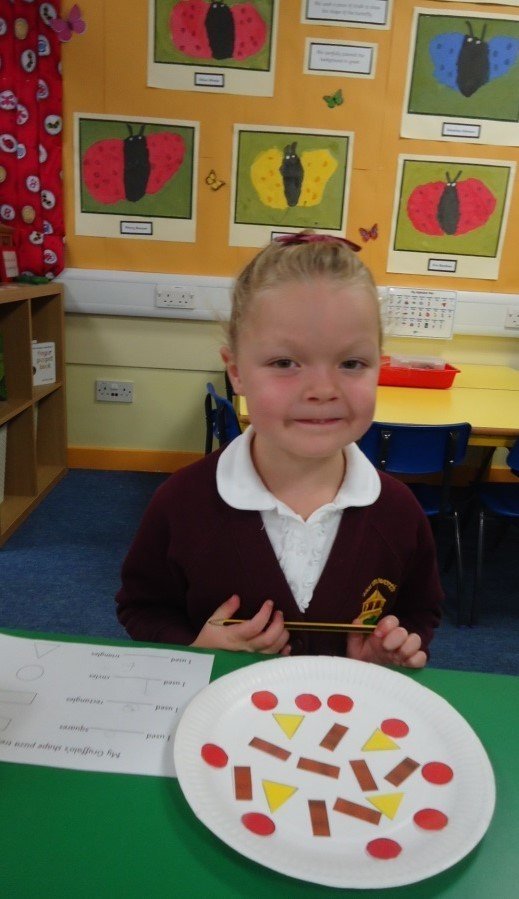 "We made Gruffalo shape pizzas. We used lots of different shapes for it" "Look at our Gruffalo Shape pizzas"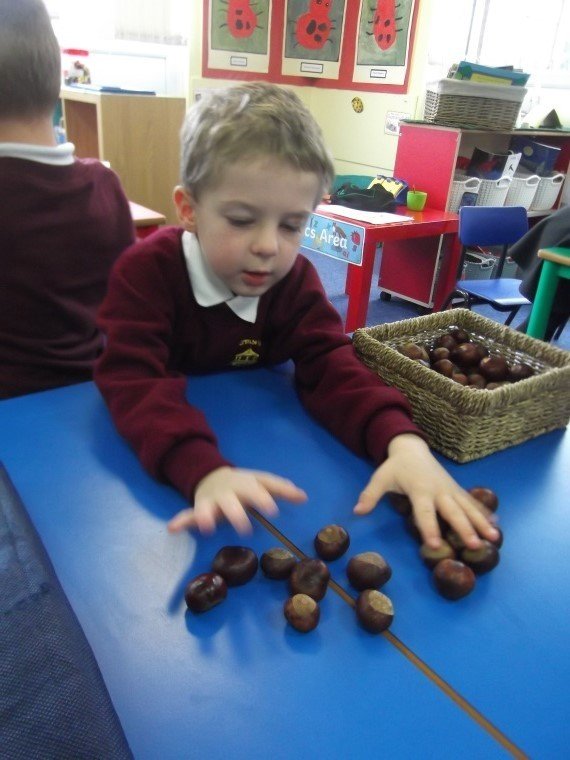 "We have been learning about estimating. We had a good guess of how many conkers were there."
"We then counted them to see if our guess was good"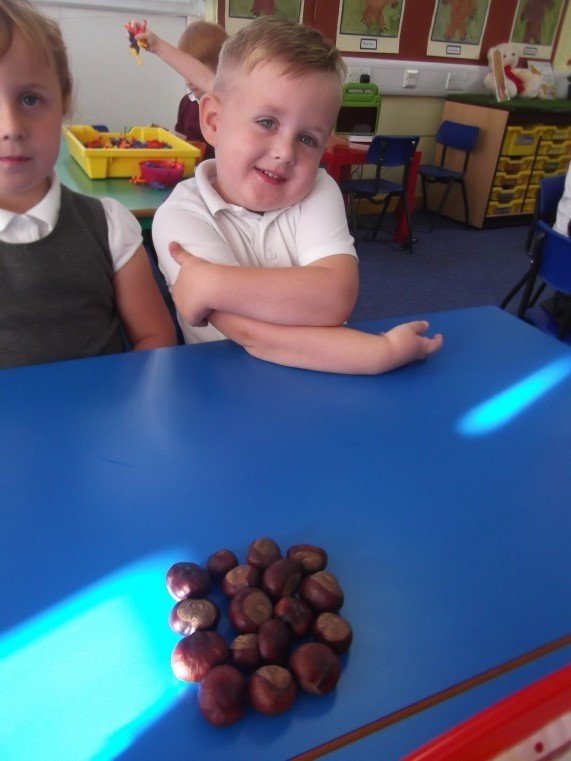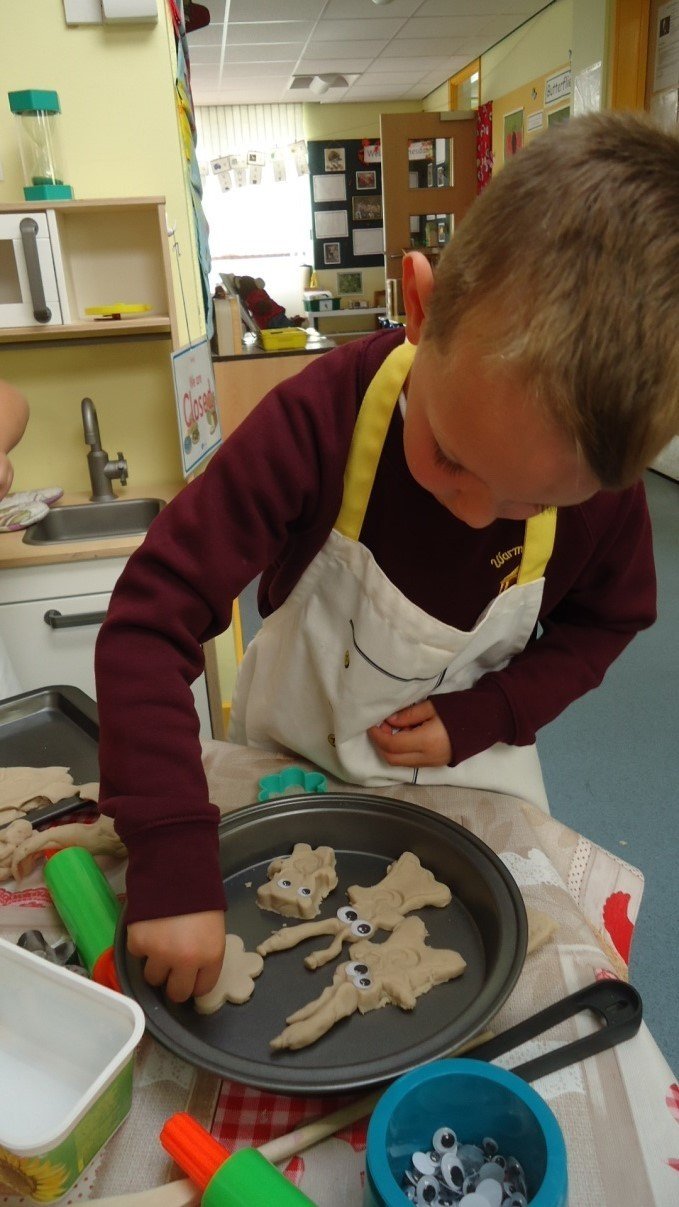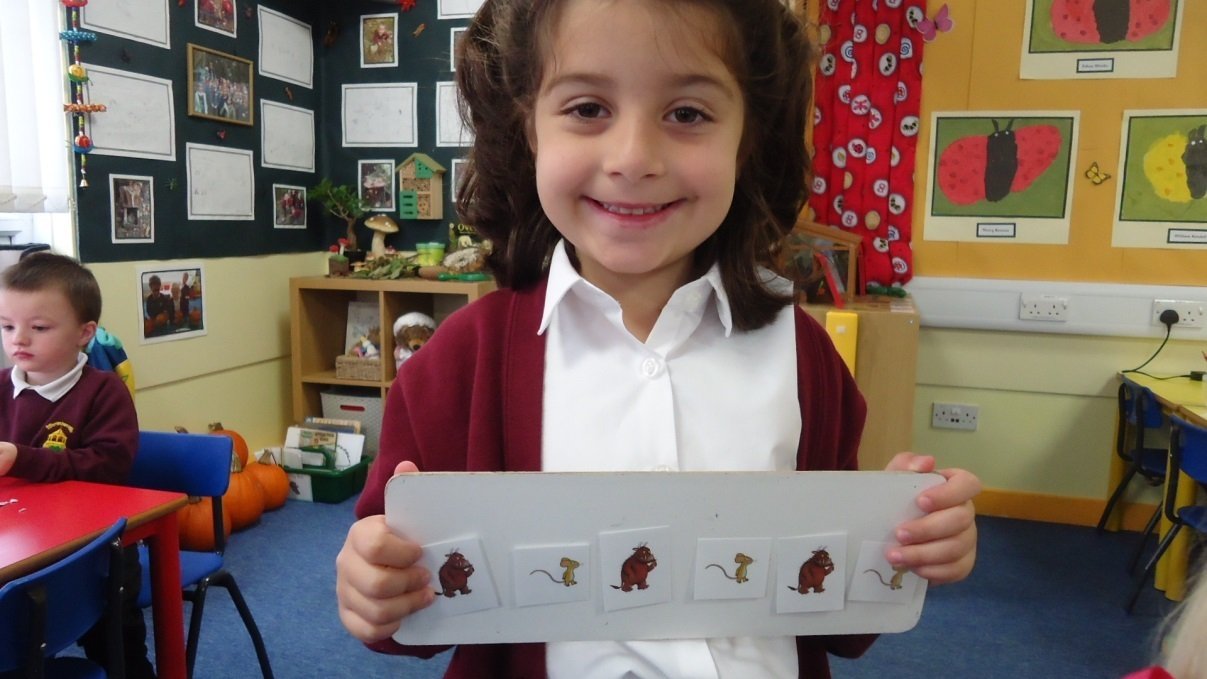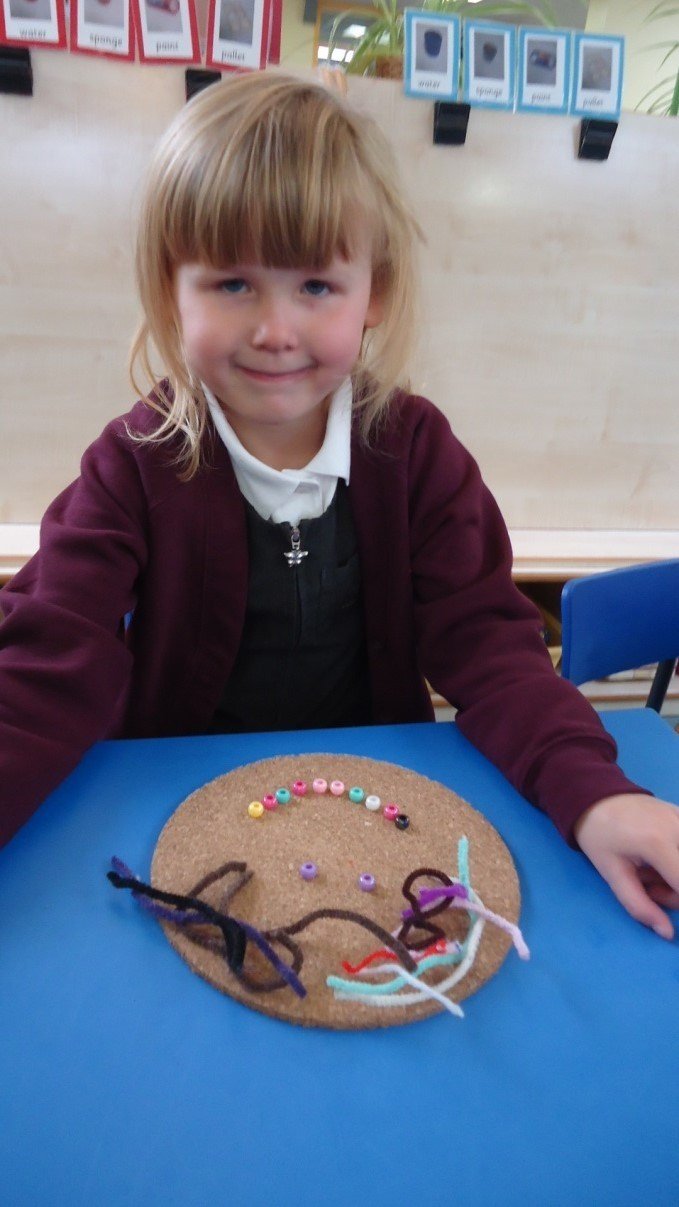 Playdough Bakery "Look at my Gruffallo and mouse pattern" We have been using different
"I've made 4 biscuits" materials to make a face.
"I am happy"